First thing's first: holy crap, 40 followers!! I am so excited! Hello to each and every one of you, and I love you all.
Hi everybody! Hope you had a marvelous weekend! I'm sad to see it end, but at least I don't have any major tests due for awhile, so I have a weight or three off my shoulders for the time being.
Today I wanted to share an outfit that was inspired by two of my favorite bloggers,
Maria
and
Kim
. I saw Maria pairing this skirt with this top a long time ago, and it inspired me to track the top down so I could duplicate it. If you read her blog, you know that Kim has an affinity for the color mint, so I added this cardigan in the spirit of her romantic, girly style. Kim and Maria really got me into fashion, blogs, and Anthropologie last year, and because of them I can honestly say that my closet (and life!) are much more colorful, beautiful and put-together. Before I found their blogs, I had
no
idea how to dress myself and thought that ill-fitting black dress pants and a poorly-made top from high school was a "nice" outfit. I think I've come a long way since then, and though I still have a long way to go, I'm so grateful to
all
the bloggers who helped me on my way. Thank you for inspiring me to learn about fashion and figure out how to dress, lovely ladies. If I can ever be half as stylish as you, I'll have it made!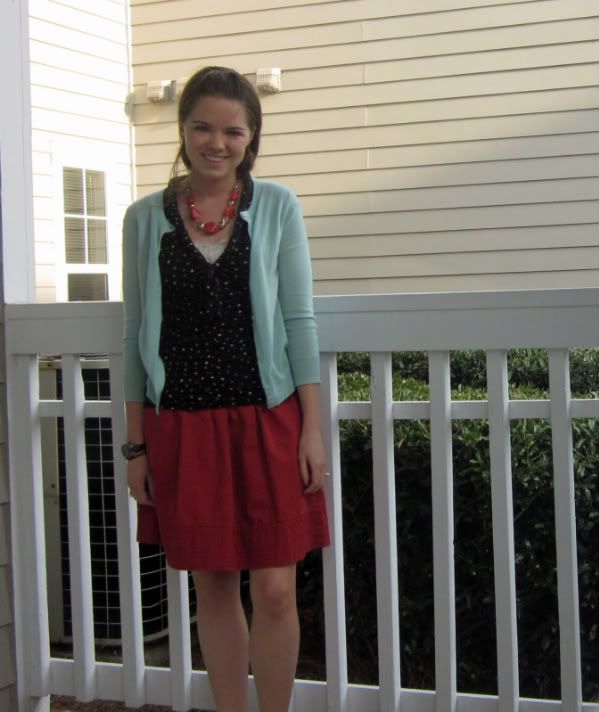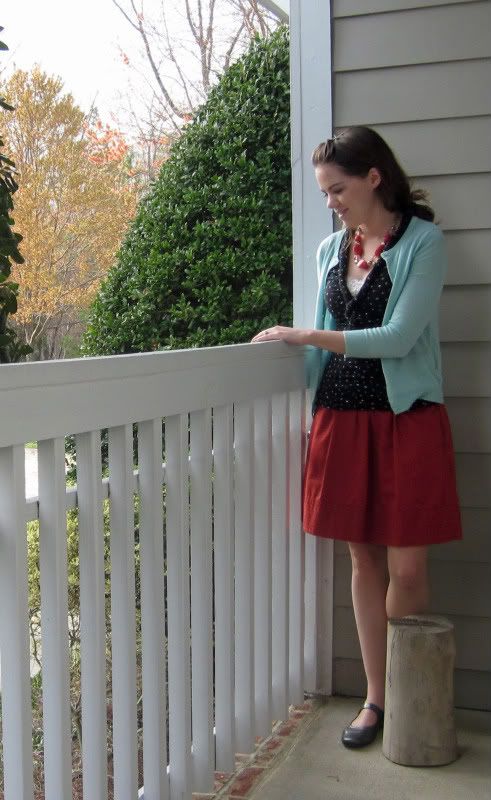 Night Skating Top, Thousand Days Skirt (Anthropologie)
JCrew cardi
NY and Company necklace
Softwalk shoes
Have you always been into fashion and dressing up, or have blogs (or something else!) inspired you to put more thought into it?