Good... well, it isn't morning anymore, is it? I'm really sorry that I didn't get part two of my vacation posted last night, guys. You see, I've caught some kind of bug that totally knocked me out from 9PM last night until just a few hours ago. A "for twelve-year-olds and under" dose of Nyquil also contributed to knocking me out. Katie vs Nyquil never ends well for Katie.) Ugh. I think I must have picked it up from someone on the plane back home. Nothing like tight quarters to catch every bug possible! Needless to say, I'm home sick right now, but I've managed to get up the energy to at least post some more Disney pictures for you. With that said, welcome to: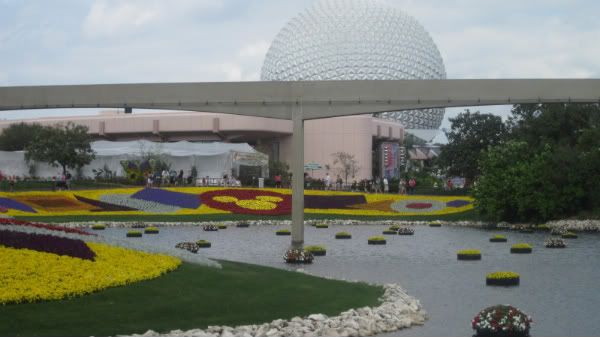 Katie's Disney Vacation, Part Two: Epcot!
I adore Epcot. As you all know, I am a cute
scientist
, and Epcot is tied for my favorite Disney park because it's such a celebration of the scientific world. (What's my other favorite park? Find out tomorrow!) To mention the park I posted about yesterday, one of my favorite rides at the Magic Kingdom is the Carousel of Progress, because the song perfectly describes my view of life. I think Epcot is also a great reminder that "there's a great, big beautiful tomorrow just a dream away," and I love seeing all the wonderful things that our fantastic human brains can dream up.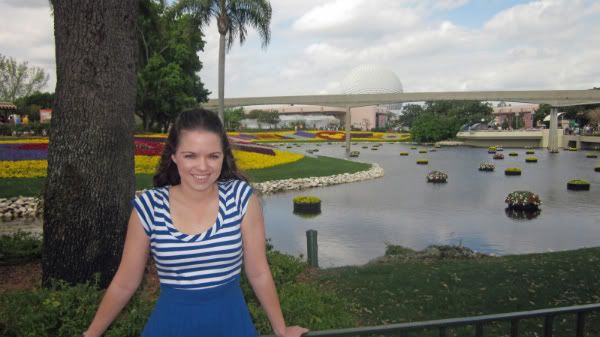 My OotD was pretty simple. Just this cute Old Navy dress. A huge thank-you goes to
Sara
for posting about these dresses last summer. I bought all three colors, and they're perfect for when you want a washable-but-cute summer dress that you're not afraid to mess up!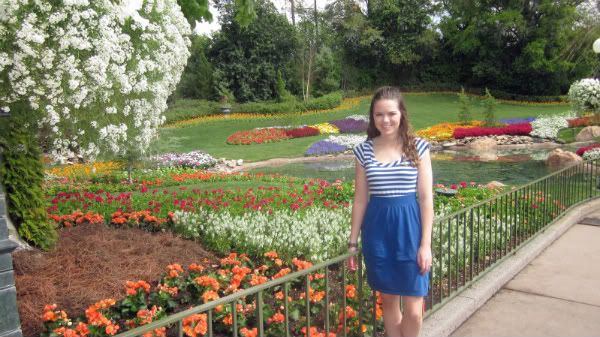 Epcot is gorgeous, as Canada's flower gardens demonstrate.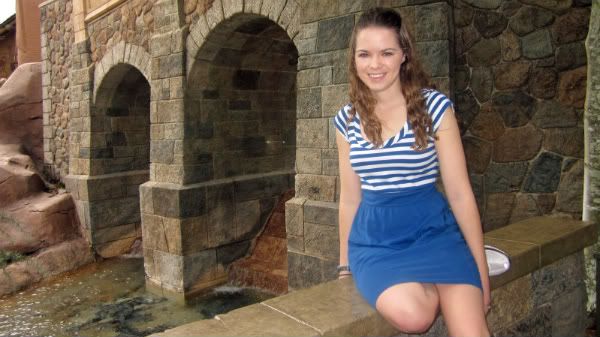 We ate at an awesome steakhouse in Canada.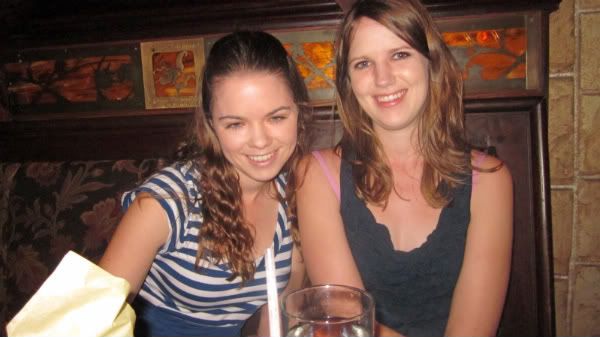 I apologize for my scary face in this picture, but I wanted to show you Ria's Creative Outlet Tank (Anthropologie). Especially because great minds apparently think alike and I also brought mine on this trip! You'll see me wearing mine (in a different color) in Part 3 of the Disney trip posts!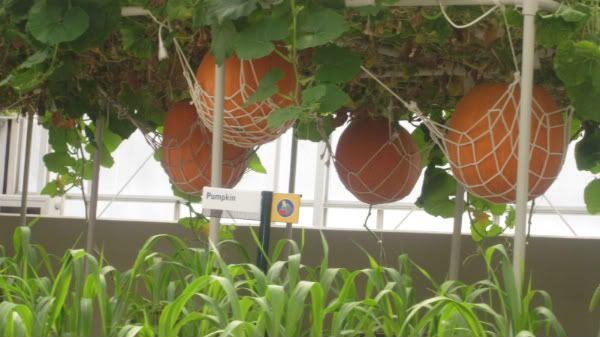 Here's where my science geekery comes in. These are enormous pumpkins that are growing vertically. How awesome is that? This "garden" has other things like vertically-growing sweet potatoes, nine pound lemons, and vertical spiral-shaped planters.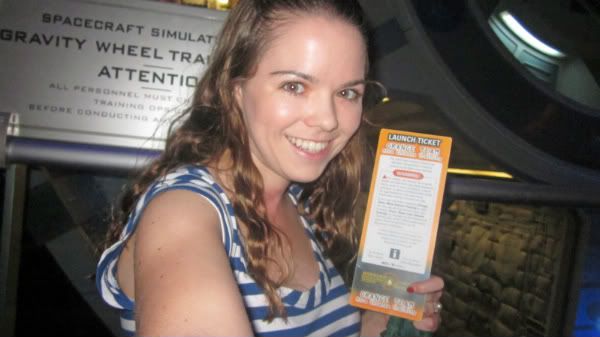 This is my favorite ride at Epcot, and I had to get a picture of my "more intense training" ticket. Mission: Space is a simulator ride that mimics flight training at NASA (as far as I know, real astronauts don't really do it like this anymore because of the way shuttles are built nowadays, but it's still fun!) and does a darn good job of it! There's some pretty intense G-force action going on, and it's been known to intimidate at least one person out of riding in my group every time I go. Of course, that one person is never me. I love this ride and have a stomach of steel, so I could go on all day. In fact, I pretty much did. Does my crazy face indicate how excited I was?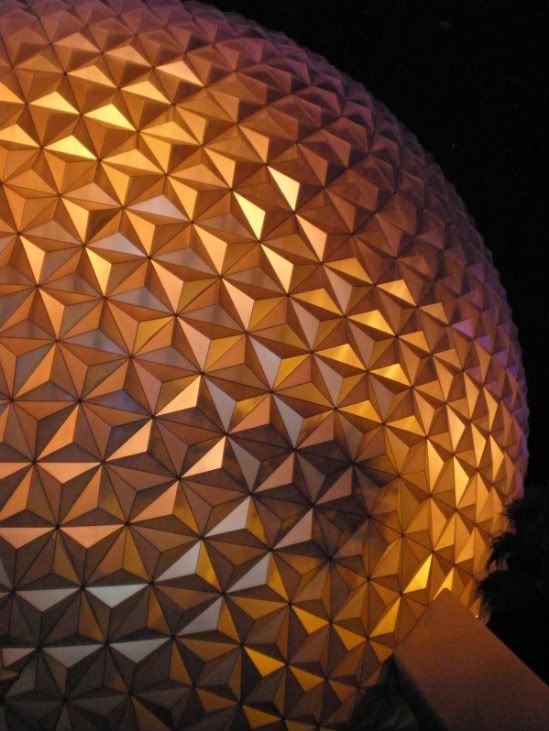 Old picture I took a few years ago, but this is the site of Spaceship Earth, another of my favorite testaments to human progress.
I always cry at IllumiNations. Seeing all the countries lit up is a really moving experience, and the song that plays at the end is one of my favorites.
You can listen to "Promise" here
. We hear so much in the news about how we're different, but Epcot is one place where we can celebrate how we're the same. We're all on this Spaceship Earth together, and what we do with it is our decision... but I believe that we'll do more good than bad in the end just by being here. We have our faults and we make mistakes, but I really do believe that ultimately people make the world a better place. Yes, there are some dark times (we're dealing with a big one right now with the tragedy in Japan), but no matter what happens, if we work together, "we'll go on." I try every day to "live to keep the promise" and make my own corner of the world a better place through my words, actions, and interactions with others. I truly hope that this gives you inspiration to do the same, as going to Epcot always inspires me.
Moving on, through the good times and the tears
Ever on, another thousand circles 'round the sun
A new life has begun
When two of us are one
And we live to keep the promise
We'll go on