Good Saturday afternoon! How is your weekend so far? I'm procrastinating on a test that I'll probably spend all of Sunday working on, but right now I'm just too sore and tired to do any work. You see, I've gotten more into exercise lately and am really trying to pick up my running because I've been inspired by
Jewish Girl
to train for the next Disney Princess Half Marathon! I really want to do it, but I'm not much of a runner, so it'll take work. I also have some training goals for swimming, which is the sport I'm more serious about. I ran about 3-4 miles yesterday, and I'm really feeling it. I only managed to swim 1300 meters today, and right now I'm hanging out at home resting. Hopefully tomorrow I'll be feeling well enough to at least do some DDR!
Okay, so I wanted to post my outfit of the night (or of the last night). I went to my friend's birthday party, and what better way to break out my new Laced With Grace dress? I'm glad I took my readers' advice and went with the 0. It's a good fit, and I was able to eat a big meal and not feel like it was too tight at all, which is what I'd feared. Here's my first attempt at styling it: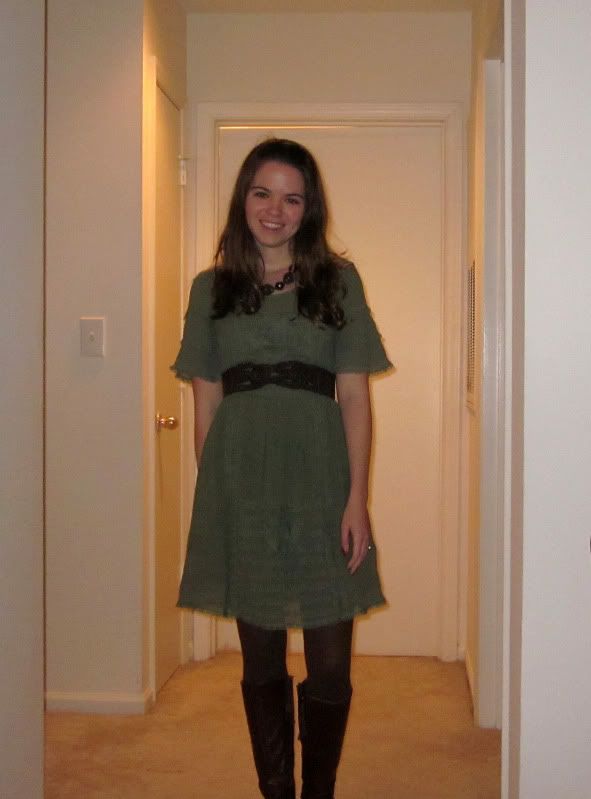 Anthropologie Laced With Grace Dress, Looping Lanes Belt, Speckled Tights
Grandma's boots
Necklace: gift from my sister from a shop in Charleston
Bonnie
's blog header inspired this outfit, and was actually what made me realize I needed this dress in my life. It looks so gorgeous on her, and I realized that I had a really similar necklace. Thanks for inspiring me to get a great dress, Bonnie!
Was I cold in this outfit on a Friday evening? Yes. Yes, I was. If I'd been thinking, I would have added something like this JCrew warehouse cardi: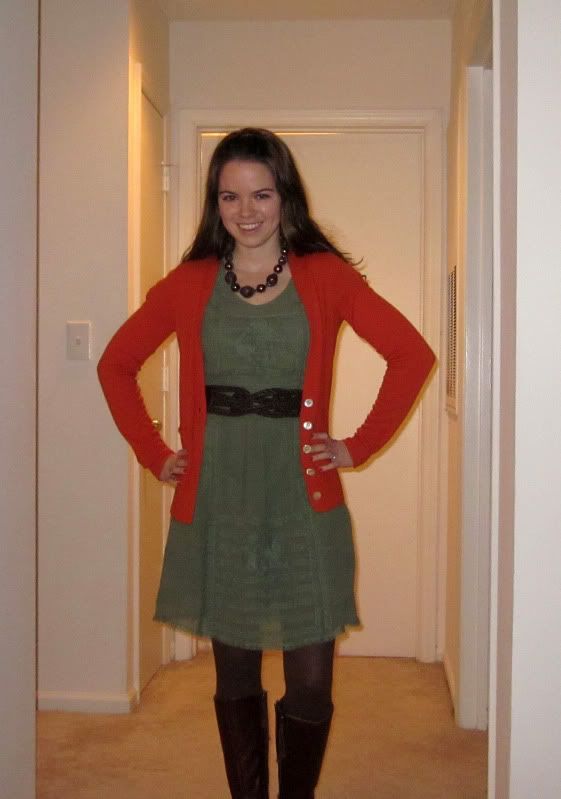 This look was inspired by
Dea
, who wore her dress beautifully with a rust cardigan.
That's about all I have for today. I hope you guys enjoy the rest of your weekend!