Happy St. Patrick's Day! I'll have my Irish-approved (and since I approved my outfit, that totally counts) outfit up soon, but for now, as promised, I wanted to post some more reviews by my sister Ria. Enjoy!
Reviews By Ria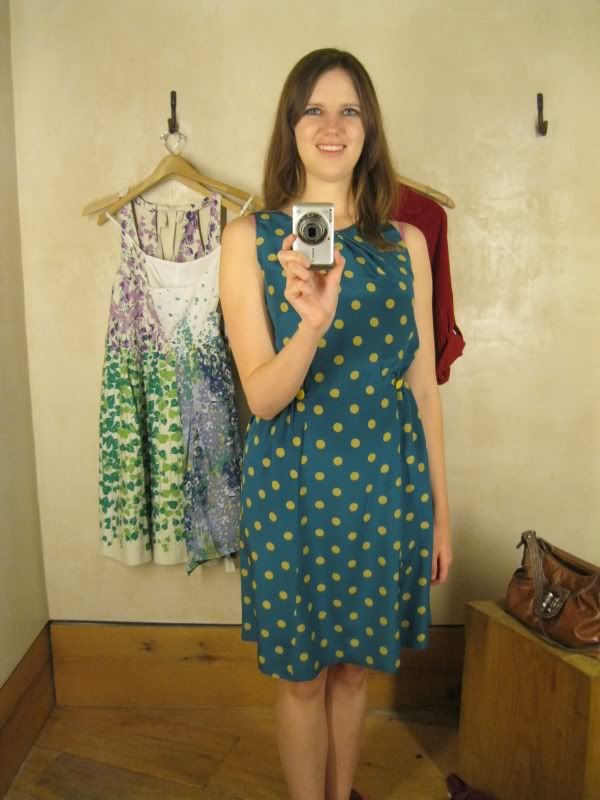 Take Action Dress:

I should have listened to the reviews and sized down; maybe then this would have worked out. I'm wearing a 2 in the pics, but since we were on our way to Disney I didn't have time to go back out for a 0. Let's start with the positives: The color and pattern. Love, love, love and the teal Circle-the-Globe-ish color is perfect for my skin tone and eye color. I also love the high neckline, unique shape, and (da da da daaaaa) it isn't sheer! You can pick your jaw off the floor now. There's a lot to like here, which is a shame considering I don't think this dress will work for me.

The fit is just off. I'm not even sure sizing down would have helped. It fit okay in the bust and hips, but the waist is a baggy mess. Look at that huge bunch of material! I look like I'm carrying a litter of rabbits. If it gets a 2nd cut it'll be worth a shot, but as is, it's a pass for me.

Will it last, will I pass, or is it in the trash?: A sad pass for me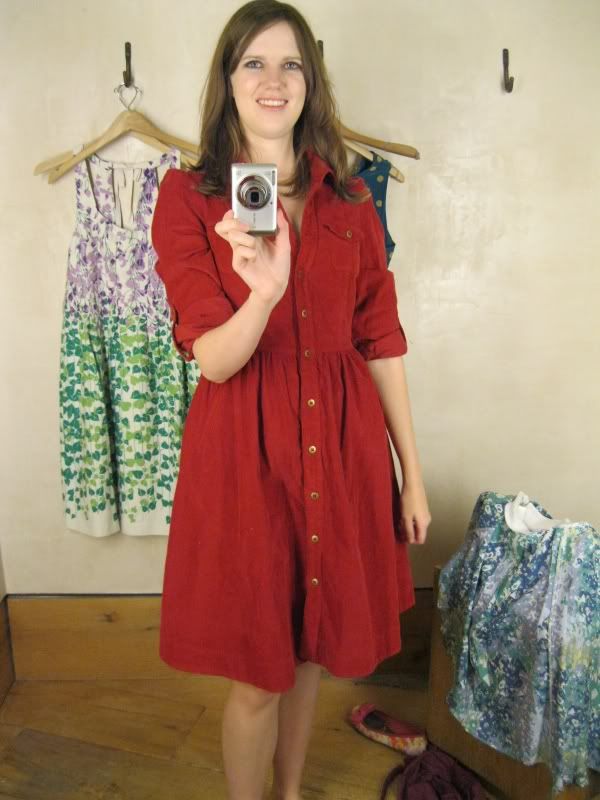 Refined Cord Shirtdress:

I am officially the last person in the world to try this on. This dress never even made it to my (extensive) wishlist, as I already have plenty of navy and gray in my closet and the red screamed Mrs. Claus to me. But there it was, in the sale room. In a size 4. At second cut price (yes, you read that right. I asked the SA to make sure it wasn't a mistake, but she told me sometimes that happens when it's the last one in the store). So of course, I had to try it, even though I figured the 4 would be too big. It's the tiniest bit big in the arms, but I loved the shape and the color grew on me too. I was dying to pair it with my Gardenia Epoch Cloche ala Anita from 101 Dalmations, and I know a bargain when I see one. In the end, I was powerless to resist. This 30 dollar pretty came home with me (stay tuned to see how I accessorized it!).

Will it last, will I pass, or is it in the trash?: Surprisingly, I think this pretty little thing is a last.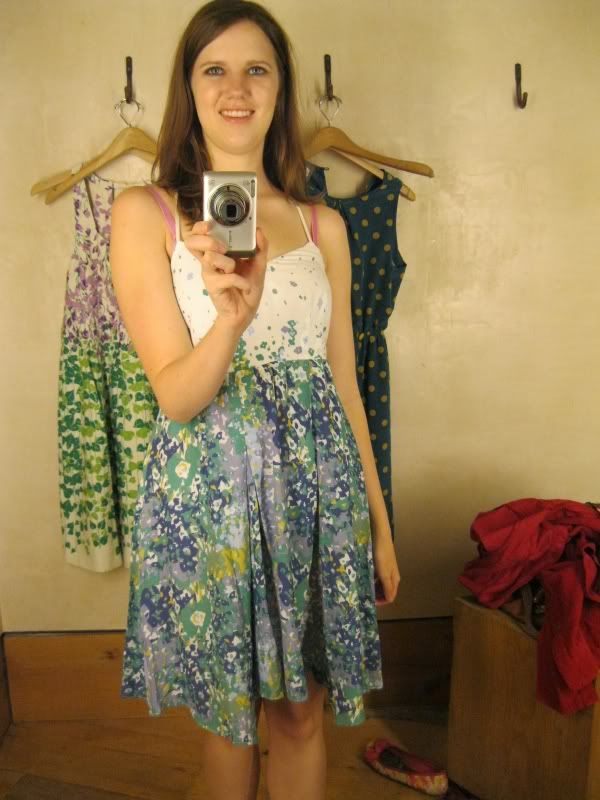 Spotty Edgar-de-Gas-ish chemise?:

This dress took me 10 minutes to put on. You heard that right. About seven minutes in, I had to poke my head out the door and beckon frantically for the SA to come help me. To her credit, she didn't once laugh at the mishapened mess of a Ria stuck in a chemise. I kept wailing that it was too small (I tried on an xs) and I must have gained more weight than I thought, but it turns out I just hadn't put on the criss-cross straps right. I'd say stick with your regular size. For anyone who likes this chemise, make sure you line up the straps right before you put it on.

As for the chemise itself, it was pretty and felt great on, but once again it walked the line between chemise and dress. I'm almost 5"6 and I have long legs, so the dress was too short to be anything other than a swimsuit coverup on me. And I would hate to waste this pretty, so I'll let it go to someone else.

Will it last, will I pass, or is it in the trash?: A pass for me, but recommended for shorter girls.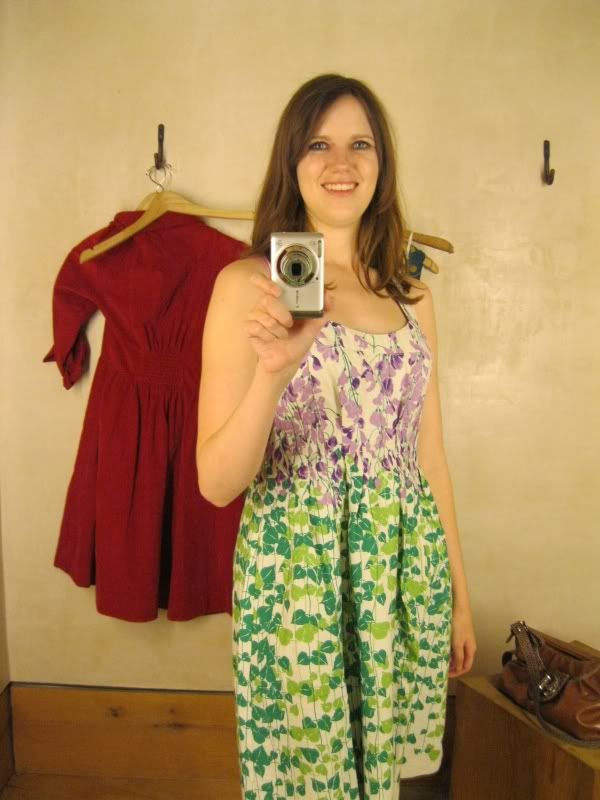 Wisteria Halter Dress:

Guys, I need your help with this one. This is a nice dress, I'll admit that. It's a really sturdy material without being potato sacky (I'm looking at you, Pom Flower Shift. I will never understand why that dress is so popular) and I like what it does for my figure. The pattern is also really cute. But the back comes down too low to hide a bra, and that's a problem for me. Not because I really need one (I could probably get away without one most days…sigh) but I'm just not comfortable without one. Plus the shape is reminiscent of the Sugar and Cream dress, which I already have. What do y'all think (oh, and this is a size 2. I think it fits TTS)?

Will it last, will I pass, or is it in the trash?: This is where y'all come in. Should this be a last (on sale of course) or a pass? Help!

And of course, being the impulsive person I am, the second I got home from Disney I ripped the tags off Refined Cord and started playing with accessories. There are so many combinations for this pretty, but I'm super happy with the one I picked: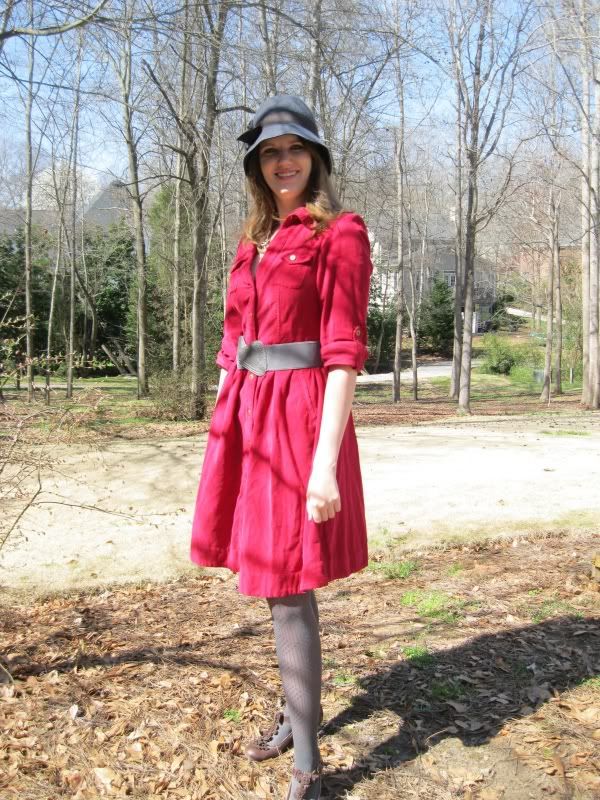 Anthro Refined Cord Dress (on super sale for 30 bucks cause I got the last one in the house!!!)
Khol's necklace: Gift
101 Dalmations Anita Hat aka Anthro Gardenia Epoch Cloche: (10 bucks on super sale cause apparently I have a weird shaped head and everyone with a normal shaped head didn't like this pretty hat. EVERY time I go out in this hat, no matter what else I'm wearing, someone tells me I look like Anita (Perdita's owner) from 101 Dalmations. That's a high compliment in my book, so I'm okay with having a weird shaped head!
Gray snakebite belt
Dotty Clusters tights
R-T Straps.

That's all for Ria's reviews this time. What are you loving from Anthro at the moment?