Hi everyone! My sister Ria will be guest blogging today to review some items that she tried on at her local Anthro last weekend. Ria and I have different styles and are shaped differently, so I thought it would help you guys to see our favorite new arrivals on someone else. For reference, Ria is 5'6, usually a size 2, and about 115 pounds. I hope you enjoy her perspective! Take it away, Ria!
So there's been a lot of buzz in the blogosphere about how Anthro's redeemed itself after its horrific January catalog. I, for one, didn't believe it. I mean, sure the new offerings were better than 80 renditions of the same baggy, shapeless striped shirt (seriously go check out the oldest of their full priced shirts, it's unbelievable), but they weren't the Anthro that I was introduced to last spring. Then I made the odyssey of a trip to my "nearest" Anthro (about four hours round trip) and, after a bit of digging, found several gems hidden beneath enough potato sacks to cause a second famine in Ireland.

First, my all Anthro OOTD (what else does an Anthro addict wear to Anthro?)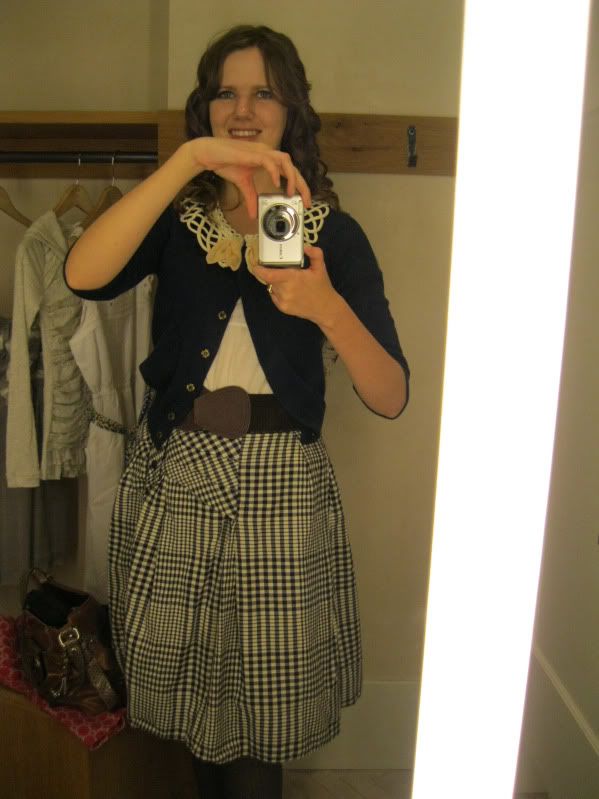 Skirt: Weave the Ring Skirt
Cardigan: Blooming Lattice Cardigan
Tights: Dotty Clusters Tights
Shoes: Renneslear T straps

Canopy Lookout Dress: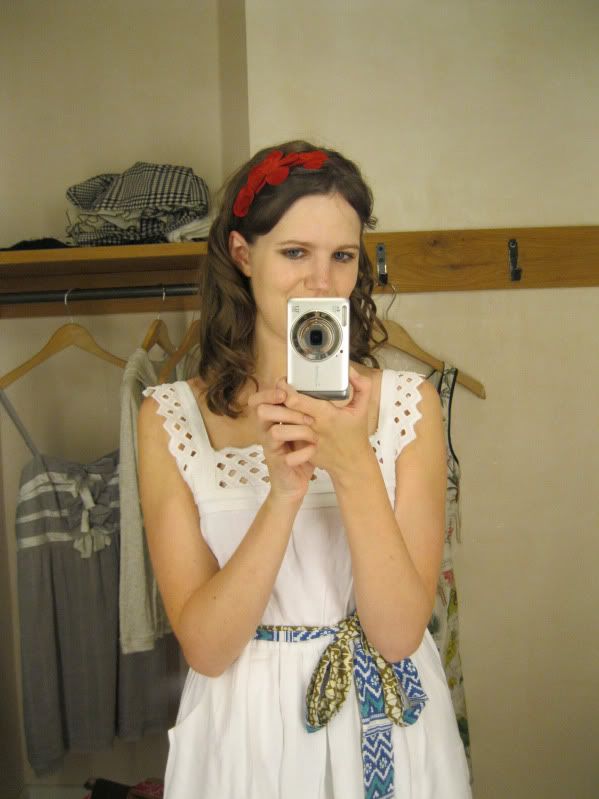 Why, hey y'all. I'm Miss Scarlet O'Hara. Come set with me on the porch and have some sweet tea, and don't you dare talk about war, war, war. I'm graduating this year and my school requires girls to wear white dresses instead of graduation robes, so I thought this would be a contender. While it's not bad, it's a little too Scarlet O'Hara for me. The length is odd: between knee length and tea length. I think it runs a little big too. I'm usually between an xs and a small in dresses and this one was just the slightest bit too big even in the xs. If you're between sizes or you're not particularly gifted in the chest area (like moi) size down.

Will it last? Will I pass? Or is it in the trash?: I'll pass on this one

GLAAAAAAAAAAAAN(d)Z Dress: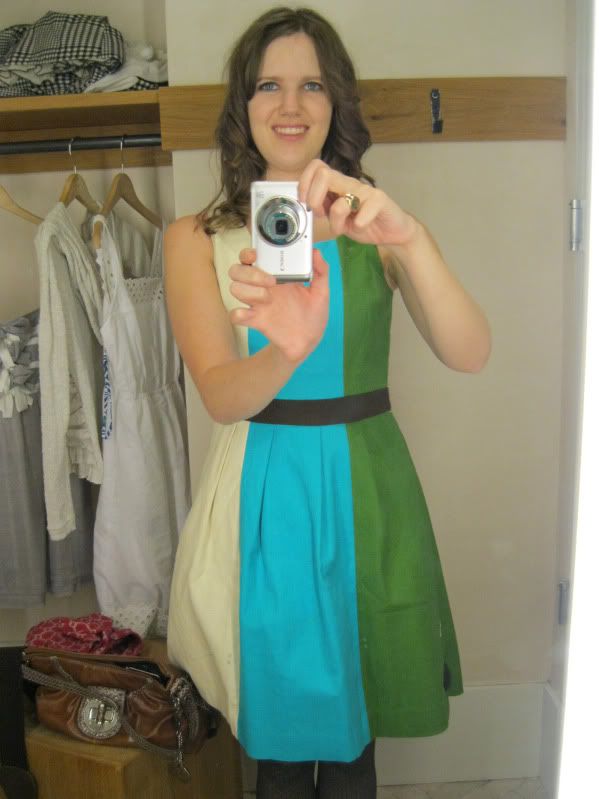 Hah, that one was for you sister. Oh my, how I loathe this dress. Yuck, yuck, icky puey. Let me count the ways. The material is really, really heavy, and for a springy summer dress, that's not a good thing. Good luck wearing this one in 100 degree heat. Second, it runs super small. The 2 didn't even zip two thirds of the way up, I may have even needed a 6. Not that I cared enough to go hunt one down. It smushed my boobs down to non existence and I was dying to get it off. And how can we forget the print? I mean if you *want* to look like the border of a nursery room, who am I to judge? It's definitely not for me.

Will it last? Will it pass? Or is it in the trash?: This one would be tossed down the incinerator.

Cherry Drops Corset and Field Skirt: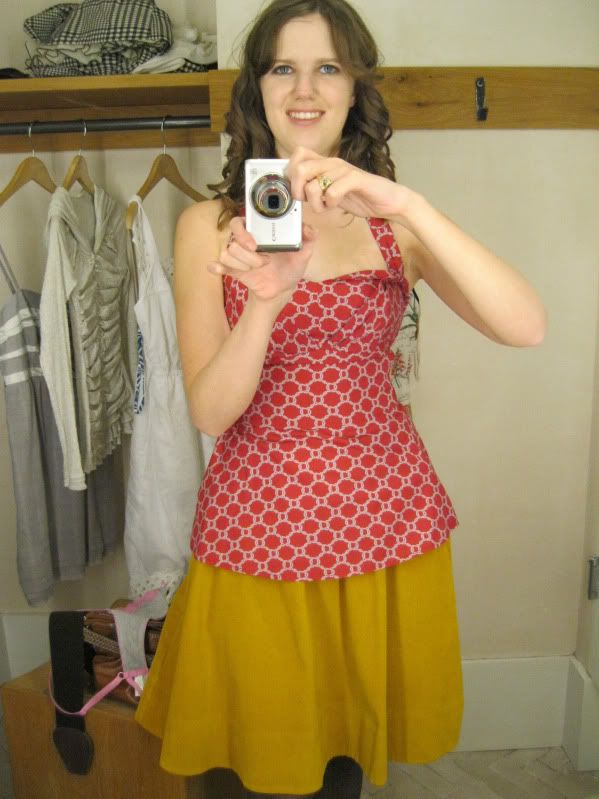 AUGH! Dilemma! The shape of this is almost identical to last year's Pop of Posies halter, which I have and love, and yet I like this one a lot too. Like the Pop of Posies, it's a little snug in the tummy area. This is a 2 and after looking at the pics, I think I'll size up to a 4 here. What I love about this top is, unlike most halters, even smaller chested girls could hold it up strapless. You can't really tell from a distance, but the pattern is a bunch of chains linked together. And pink! I love pink. I'm going to law school next year so I need something pink for the sake of Elle Woods. Right? Riiiiiight?

Will it last? Will I pass? Or is it in the trash?: I have a feeling I'll be picking this one up on sale.

I wouldn't wear these two together, but I wanted to give the Field Skirt a whirl since everyone else seems to love it. It's nice and I love the color, but the corduroy keeps it from being a year-round piece. If it makes it to second cut I'll pick one up, but given its popularity, I'm not holding my breath.

Will it last? Will I pass? Or is it in the trash?: If by some miracle I find it on second cut, it'll be mine.

Sunny Soiree Dress:

I actually kind of liked this one, and yet there's no picture. Why is there no picture, you ask? Because I was wearing a pink bra and it is COMPLETELY SEE THROUGH. You would definitely need a cami under this one. If I can find the yellow Vappu dress (please please please to anyone with this dress in a 0 2 or 4!) then I won't need this one, but I really liked the white on top and the yellow on bottom. And the Pirate ruffle. Rawr. I tried it on in a 2 and it fits true to size.

Will it last? Will I pass? Or is it in the trash?: If I can't find the Vappu (please!) I'll pick this one up on 2nd cut as a consolation prize. And a cami to wear under it.


Update from Katie: Ria would like to make it known that she found a Vappu dress thanks to Diem!

Sweet Offerings Chemise: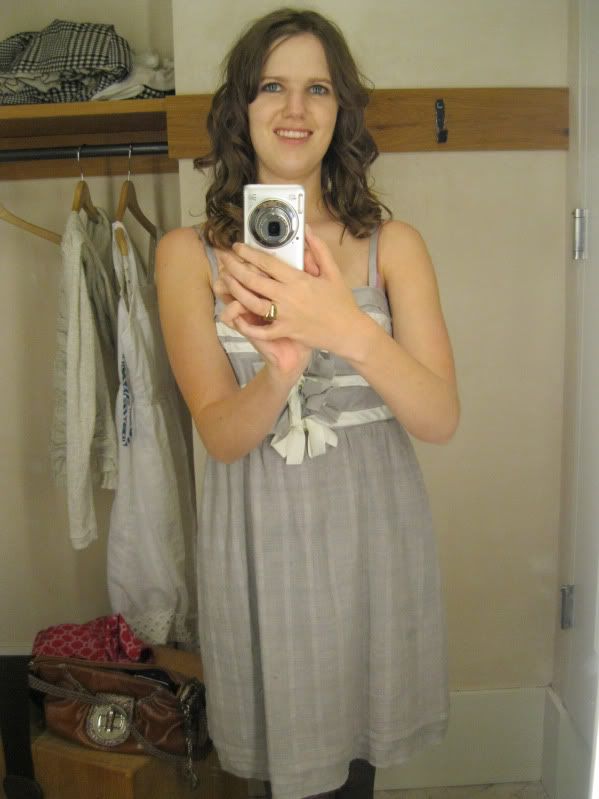 Meh. I mean it's a pretty nightgown, but I don't think I could get away with wearing this one outside the house. And my outfit of choice inside the house is my purple bathrobe with the turtles on it. But for those of you who like it, don't let the length fool you. It looks super short on the hanger, but it's not too bad. I'd say it runs true to size.

Will it last? Will it pass? Or is it in the trash: Pass

Tuileries Dress: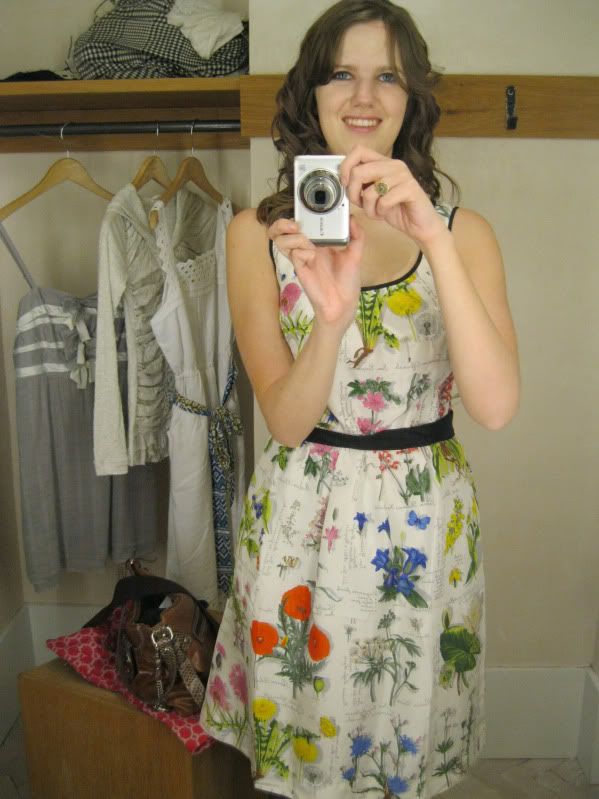 I've saved the best for last. This was the cream of the crop. The queso on my nachos. The dress that made me want to change my name to Mrs. Bruce Wayne just so I could afford this dress. Gimme. GimmegimmegimmegimmeGIMMEGUMDROPS.

Okay, inside voice.

I missed out on the New York New York dress by We Love Vera last year and refuse to pay IEB (insane eBay prices). This dress has an almost identical shape, but I wasn't sold on the print until I saw it in person. Don't let the product shot fool you, this is a beauty. I tried it on in a 2 and was crushed to see the fit was a little big up top. But the SA pulled the one lone 0 out for me and I reluctantly tried it on (I'm rarely a 0). A perfect fit. So this dress definitely runs big, especially up top. Size down. The material is divine, the colors are stunning, the length is perfect for my height and there is not a thing I don't love about this dress. It's like the Summer Twilight Dress from last summer and the New York New York dress had a beautiful, beautiful baby. I'd recommend it to anyone, except size 0s, who are not allowed to buy it until I have one for myself.

Will it last? Will I pass? Or is it in the trash?: I can't afford this full priced, but I will snap this sucker up the second it goes on sale.

And now for what I actually came home with…TUILERIES!!!! No, not really, only in my dreams. But I did snag a neat little treasure:

Leather Laurel Headband:

Remember this beauty? The completely sold out one? Can I gloat a little more? Why, yes I can! Not only did I find this hanging out on its own jammed at the bottom of the headband jar, it was also randomly ON SALE! It's still full priced online and completely sold out, so I have no idea how this lone little beauty made it to sale. But I love it. A lot. The leather is so soft and the pop of red looks really nice in my hair. I can't wait to pair it with my red shoes!

And lastly, a plea to Anthro: MORE INTERESTING PRINTS, PLEASE!!! Stripes and florals are all well and good, but I think the reason I've been so blah about Anthro's offering this season is because there aren't any super fun prints. Where are the teacups? The roosters? The lobsters? We get one little bird dress and that's it? That ain't gonna cut the mustard, Anthro! But, they did come out with the Tuileries, so I can't be too mad at them. Yet.