Hi guys! Time for a big post full of fashiony goodness!

First, I went to Anthro last weekend with my parents (surprised?), and my mom graciously offered to buy me something. I didn't really have my eye on anything, but has that ever stopped me? Oh no.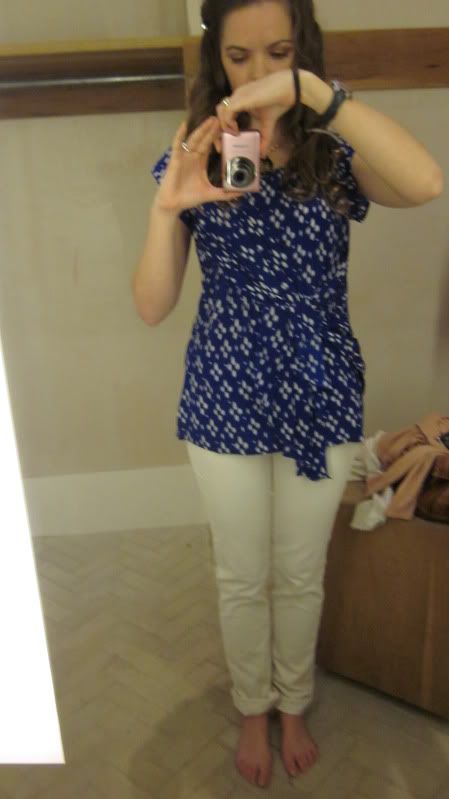 First, I wasn't too impressed with the Gathering Blossoms Top online, but in the store I adored the color so much that I had to try it. I didn't see a 0, so I'm wearing the 2, which you can see is very big. (I could get it on easily without undoing the side zip, what!) I loved the color with my skintone/features and it looked awesome with my white cords (see below). The blouse is silk and seems good quality. My worry is that even the 0 would be way too big. Looking at the picture, I'm not sure I'm as happy with it as I was in the store. What do you guys think? At $118, there's no way this top is coming to live in my closet any time soon, but if it gets a second cut I'd consider it.

I'd heard about these AG Stevie Cords (no longer online, but call CS and you may still be able to find some) from some other blogs, but wasn't sure how I'd like them on me. I typically don't wear pants because I just don't feel pretty in them. But I had nothing better to do, and I noticed they had a 26 in the sale room, so I tried them on. Love! They were so soft and really flattering. The length is a little long for 5'3 me, but they'll be cute rolled up, with heels, and a lot of different ways. Best of all? They had gotten a second cut! So I informed my mom that she was buying me these pants, ha. Unfortunately I felt that the size 26 was just a little big (being cords, I was worried they'd stretch and be really baggy in the butt, which is a problem I have with a lot of jeans -- no booty to speak of here). Luckily, my local Anthro was kind enough to get on the phone and find me a size 25, which arrived a few days ago. I couldn't get them on fast enough: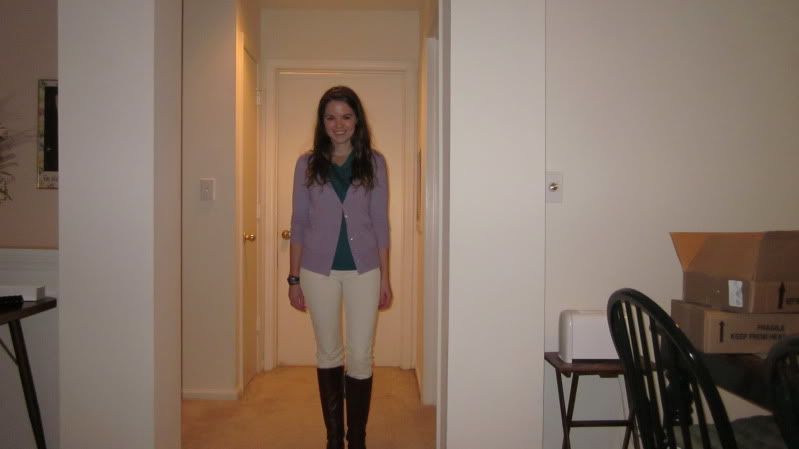 AG Stevie Cords (Anthro)
JCrew cardi
Wind Rippled Tee (Anthro 2009)
Boots from Grandmother

And guess what else arrived? My Laced With Grace dress! (No longer online, but they are in stores, so call!) I've wanted this dress since it made its debut on the Anthro site. Green is one of my favorite colors on me, and I own nothing like this. I loved it, but it was too expensive. So I patiently waited and waited for sale. It paid off! But okay, so here's my dilemma, readers. When I initially tried this dress on, I felt the 0 was too tight and I'd be more comfortable in a 2. But when I went to buy it, my store only had a 0... which seemed to fit? I wasn't sure, so I ordered a 2. Now I need to decide which size to keep, and I need your help! Here's the 2 on me: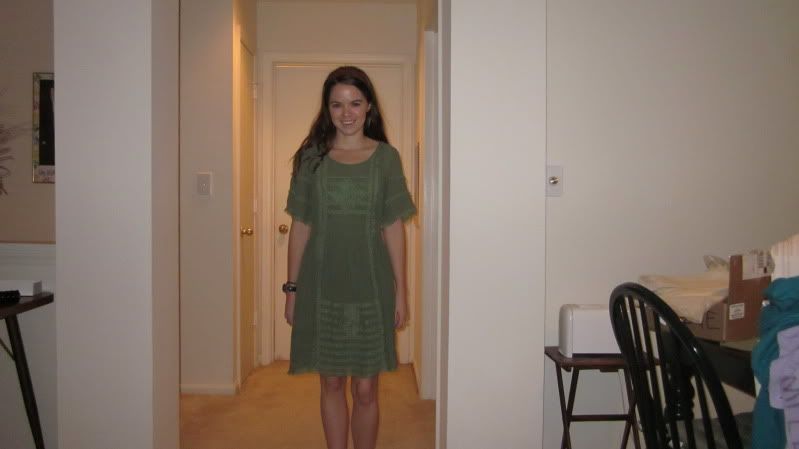 And here's the 0:
Looking at the photos, I'm leaning towards the 0, strangely, because I feel like the 2 makes me look kind of silly in the arms, but what do you think? Please help because I need to make a decision so I can actually wear my beautiful new dress!
Finally, I've got a couple of OotDs for you: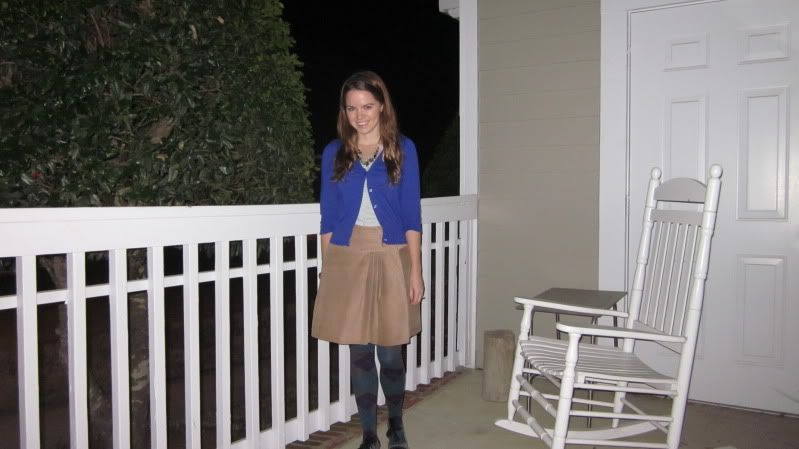 Honey Butter Skirt (Anthro 2009)
Climbing Cowlneck (Anthro 2010)
Target cardi
Macy's tights
Hallowed Halls Oxfords (Anthro 2010)
Kohl's necklace (pretty old)

I loved this outfit! I scored this skirt on super sale last Valentine's day, and it always reminds me of the fun times I had with my friends that day. It's also super soft.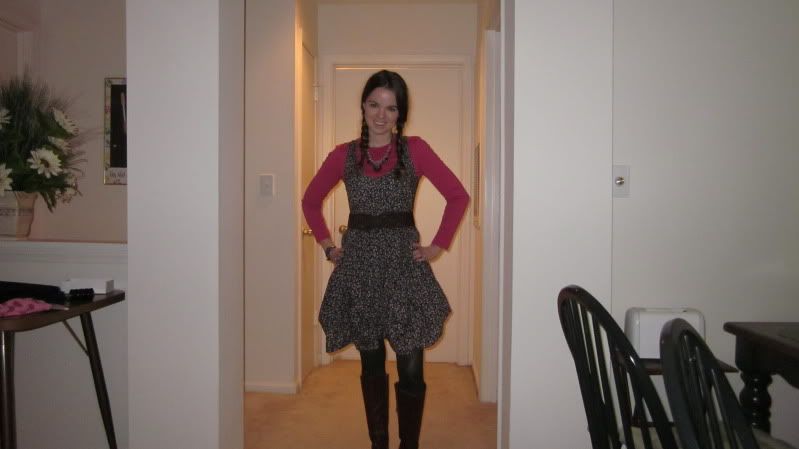 Gathered Alyssum Dress (Anthro 2009)
Looping Lanes Belt (Anthro 2010)
Talbots tee-shirt
Jessica Simpson tights (Macy's)
... I just realized I'm wearing the same Kohl's necklace. Oops. I swear these pictures were a few days apart.
Grandmother's boots
This is a shameless repeat outfit from last Christmas, and I wear versions of it constantly. This dress was one of my first Anthro purchases and my very first Anthro dress. I've worn it so much so many different ways. I feel special and mega girly in it, which is pretty much always my goal when I'm getting dressed.
Well, I'm getting my hair trimmed and my nails done today, so I need to say goodbye. I hope you enjoyed this big post, and let me know what you think. Especially about the Laced With Grace dress!