Happy Sunday! I hope everyone's having a great weekend so far. And what better time than the weekend to talk about everyone's comfiest fashion rule-breaking-fest: wearing loungewear outside the house! I know, I know. This is something that should be reserved for college students with 8AM O-Chem class. But today I'm hoping to show you a few ways that you can make Anthro's loungewear work for you as daywear.
Alright, so I actually put together these outfits accidentally. I couldn't decide how I wanted to get dressed and kept changing it up. But for better or for worse, I have three ways to wear the Hanging Hibiscus Chemise from Anthro! (Plus a bonus outfit.) I scored this chemise during my trip to the beach on sale + 25% off, so it was a great deal. It's a size too big, but for the price, who cares?
I put these two outfits together with Casual Friday in mind, but they'd be super cute and comfy for the weekend, too: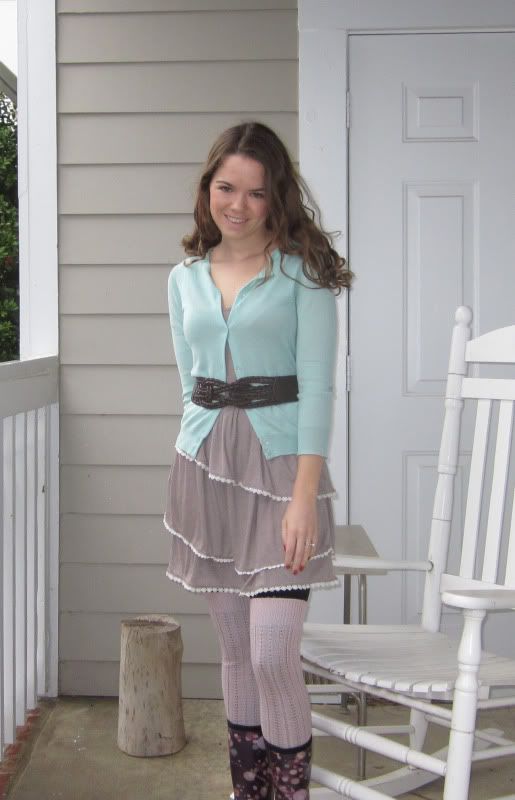 Anthropologie Hanging Hibiscus Chemise, Looping Lanes Belt
JCrew cardi
Macy's leggings
Kamik rainboots
Francesca's socks
I wasn't happy with this outfit, so I decided to channel
Roxy
and try this chemise over a sweater: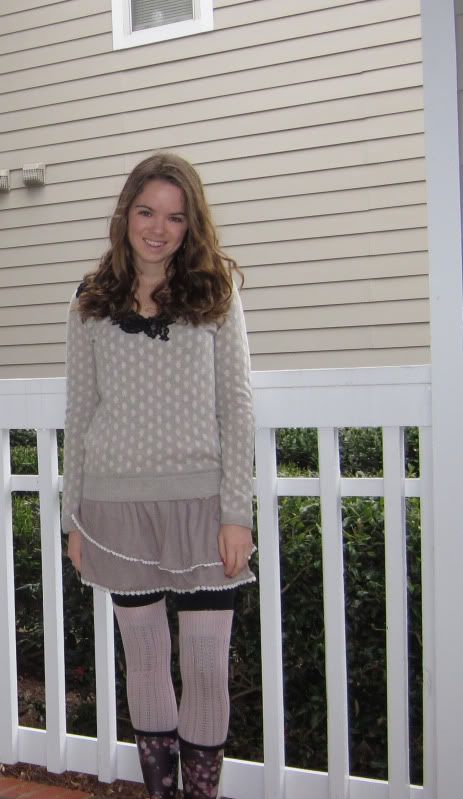 Anthropologie Hanging Hibiscus Chemise, Laced Dots Sweater
Macy's leggings
Kamik rainboots
Francesca's socks
This is definitely a departure from my usual fitted looks, but I was so comfy in this outfit. I can't even begin to tell you how comfy it was. (It was raining and gross that morning, so my rainboots were a non-negotiable part of the outfit.)
That night, I was invited to a friend's birthday party, and here's how I dressed this chemise up a bit: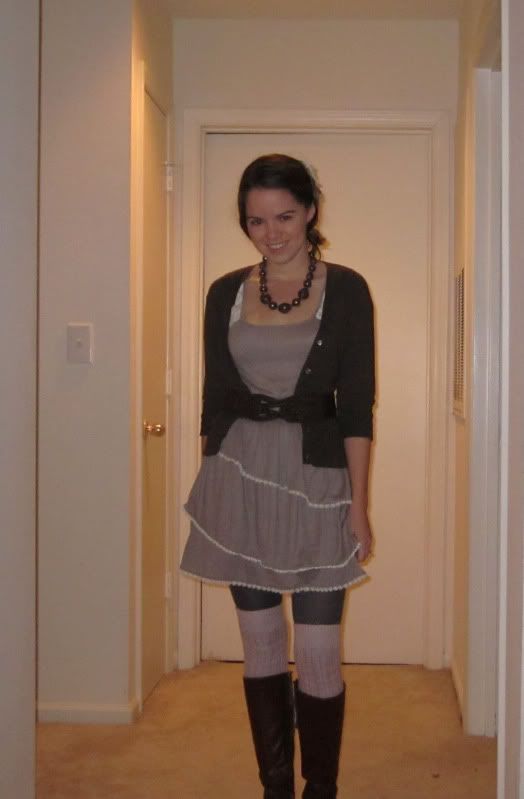 Anthropologie Hanging Hibiscus Chemise, Looping Lanes Belt
Target cardi
Macy's tights (these are gray, which I think work better with the gray-pink-brown of the chemise)
Grandma's boots
Francesca's socks
Necklace: Gift from my sister
Overall I think this chemise is pretty wearable as an actual outfit. Here's my take on another one of my favorite Anthro chemises: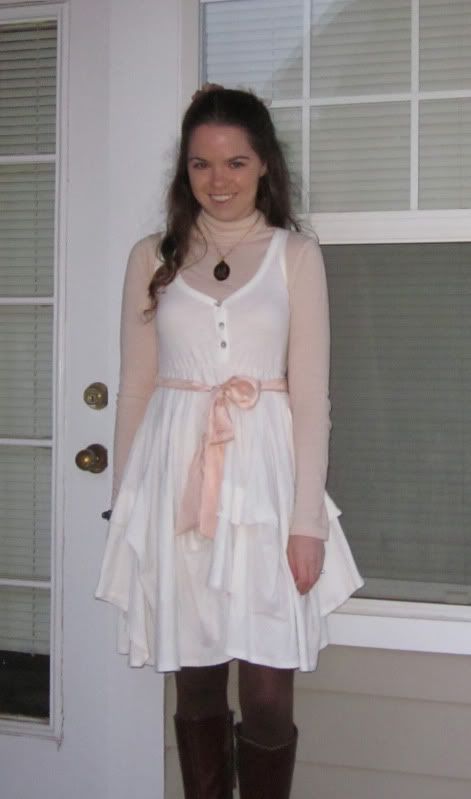 Anthropologie Guava Flower Chemise, Zodiac Heirloom Necklace, hair clips, Speckled Tights
Grandma's boots
JCrew tissue turtleneck (scored at the warehouse for only $3!!!)
I'd been looking for a nude turtleneck to wear under this chemise per my "vision" for the longest time, and I was absolutely ecstatic to find this one at my local JCrew temporary warehouse for practically nothing. (Seriously, go to a warehouse sale if you can; it's exhausting but worth it!) I got this chemise on second cut, which makes it another steal, and overall I was very happy with this outfit and think it's totally leaving-house appropriate.
Here are some tips that I've put together in my short tenure of wearing Anthro loungwear out:
1.) Layer, layer, layer. A lot of these slips/chemises are sheer, and putting a thin turtleneck, top, or even a tank/cami underneath will often make a world of difference. Tights can also help make up for a slightly shorter hemline. Look for pretty neutrals that complement your loungewear piece.
1.5) Don't be afraid to layer under or over (Roxy's sweater technique is right on the money!). When I'm choosing ways to layer, I try to figure out what part of the piece I want to emphasize, and layer in a way that helps draw attention to that. Is it the neckline that you love? Use a thin tee or turtleneck underneath. Do you love the detail of the hem? Try a sweater over the top portion.
2.) The right jewelry and shoes can really make a chemise look presentable. Try a chunky necklace or a statement piece. I've found that tall boots also really help. (They'll also compensate for a shorter hem.)
3.) When all else fails, a bright cardigan with a belt will pull things together. For chemises with a "babydoll" shape, you definitely want to find a way to define the waist. This helps avoid the "nightgown" look.
I hope this post has helped you get up the courage to wear your pretty Anthro nightgowns outside, or maybe pick up another one or two for your collection! Since Anthro's loungewear tends to be priced lower than their skirts and dresses, it's a more affordable way to add Anthro pretties to your closet, and I think with the right styling you can make lots of great outfits. Oh, and I haven't forgotten about styling the Chantilly Slip. I'll be putting together an outfit with this pretty as daywear soon to give you another fun example!
Stay tuned for tomorrow, because my sister Ria made a trip to her local Anthro and is going to be doing some awesome reviews for you. She tried on a lot of the new arrivals and has some great pictures to share. I'll see you then!