Hi! Hope you've all had a good weekend and Valentine's Day, for all who celebrate that. I wanted to share with you some outfits I wore in honor of everyone's favorite pink-and-red holiday and my new haircut!
So my hair. It's been a good long while since I got it cut. Ahem. I'm not even going to admit how long it's been because, well, yeah, but it's been a good long while. I was afraid it would be too short, but it was really, really time for a trim, and I liked how it came out! My goal is still about 5-6 inches longer, but I like knowing that it'll be healthy this time around!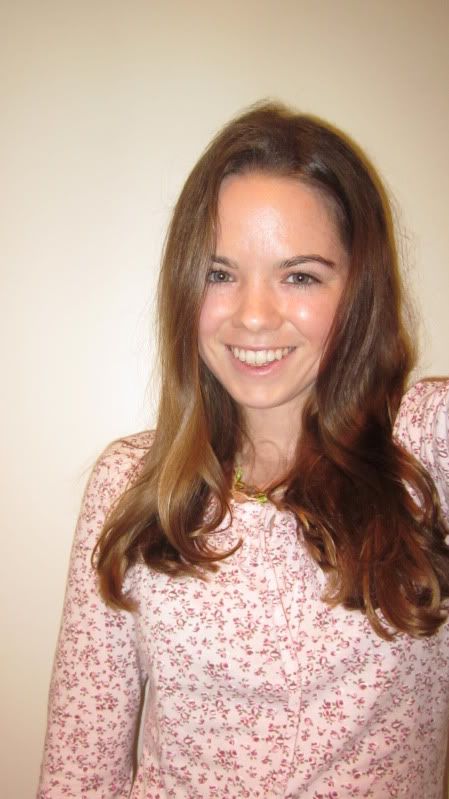 And here's my hair-trimming and slightly Valentine's-themed outfit:
AG Stevie Cords (Anthro -- Call CS!)
Grandma's boots
Old, old, OLD shirt. Seriously, it's from 6th grade! I'm not kidding.
For Sunday's outfit, I decided to be even more literal with the Valentine's theme and do something I've been wanting to do for awhile now: leave the house in tights + shorts. I'm not totally happy with this outfit because, wow, yeah, Valentine's overkill, but that's what this holiday is for, right?
JCrew shorts (from their warehouse sale)
Macy's tights
My new Target cardigan that served as my Valentine's present to myself! (I have an attachment to this cardi already, as you'll see later.)
Anthro Claudine Tee (2010)
Anthro Hallowed Halls Oxfords
Necklace: Gift from my sister
So what did I wear on Valentine's day? Well, see for yourself!
Anthro Flowers and Thyme Dress (Ebay)
JCrew cardi
Anthro Flushed Beauty Headband (warning: I am obsessed with this headband)
Anthro Speckled Tights
Grandma's boots again
Necklace: Gift from one of my dearest college friends Kendall
I saw this dress on
Maria
last year and knew I absolutely had to have it. So I stalked and stalked Ebay until I found one for a great deal! This dress is every bit as pretty as it looked on Maria's blog, and I'm so glad I have it in my life. I had a lovely time on Valentine's day with some of my best friends in the world.
And here's what I wore to work today! Ahem, I told you I like my new cardi a lot, right?
Anthro Field Skirt (Call CS to pick up this lovely on sale!)
Anthro Speckled Tights
Target cardigan
Old Navy shirt (super old)
Anthro Sweater Cuffed Booties
Cat ears: Not included
Flowers: Gift from another awesome friend, also not included
This is not the greatest picture of me and I'd just received some terrible news when I took it, so please excuse. I was inspired by
Dea
's styling of this skirt on her blog a few weeks ago and knew that I wanted to pair it with bright pink if I ever managed to score it on sale. So of course that's how I chose to wear it for its first outing. Overall I highly recommend this skirt, and if you're looking for a great fall/winter basic, I think you should consider it. It's only $40 on sale now, and it comes in four colors! I found it to run TTS to a little big: the 0 fits me, but just barely. I'd probably have sized down if I could have.
I hope you guys enjoyed these outfits and that you had a great Valentine's day! Love to everyone reading!
PS: I was floored to find out that
Tara
had chosen my Valentine's outfit to wear in her latest post! I never thought she'd pick mine and was so flattered. You should go check out how pretty she and her hubby look!
PPS: I made my pictures a little bigger in this post in hopes that you could see them better. Let me know if you like that or if it's too big!