I take a quiz every week in one of my classes. In the spirit of bringing grad student pain to all (wait a minute...), I thought it was only fair to give you guys one, too:
What kind of scientist thinks it's a good idea to wear a strapless dress with planes on it to lab?
If you guessed "probably the same kind of scientist who thinks it's a good idea to wear bright green tights to lab," you're correct!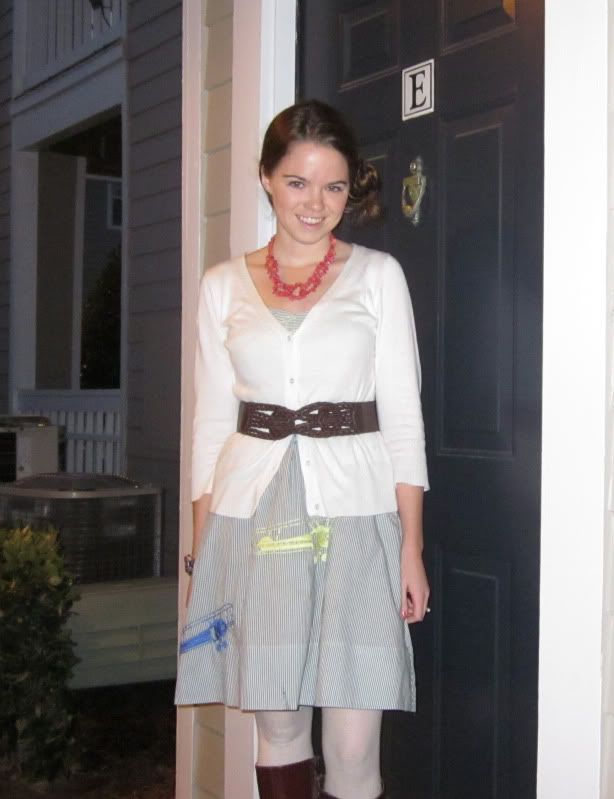 Anthropologie Wright Dress, Speckled Tights, Looping Lanes Belt
Grandma's boots
Necklace: gift from Mom (it's a really cute necklace, but I can only wear it with my hair up because it snags on said hair something awful!)
Cardigan: Target
Ahem, I love this dress for many reasons. I lusted after it for months (as per usual with my Anthro purchases), but the real reason I love it is because of how I got it. It was my "good job for not failing qualifying exams, Katie!" dress, and I'd promised it to myself as I was suffering through what was probably one of the worst two weeks of my life. Knowing I had this dress on its way to me helped get me through those last few days of hell. I had to call approximately three million stores to get it the day it went on sale, but it makes me so happy every time I wear it, and every time I put it on I'm reminded that I'm a smart person who can do some big, crazy, scary things.
You might be noticing a lack of green tights in this picture. I did wear green tights this week, but I sent them (along with the rest of my outfit) to
Jewish Girl
's Inspiring Interpretations reader outfit feature! I'll be sure to let you know when it gets posted, and I've got a few more photos I took that day that I'll share here, too.
Oh, and I also wanted to share with you what most of my evening "outfits" look like. Usually I am wearing this very fashionable and versatile accessory:
This is Emma. She likes to sleep on my face.