Exercise update: So I dragged my butt out of bed at 6:30 this morning, got some cleaning done, stretched, and then did a five mile run! YAY! I did really well for being the most anti-morning-person ever. This totally won't work for me as a regular routine, but it's nice to change it up sometimes. I ran comfortably the whole way, too, which is really nice.
With summer fast approaching, and since I live in an area that gets miserably hot (as I'm sure some of you can relate to), I wanted to show you a go-to look for nasty hot summer weather. The temperature ended up being not nearly as hot as forecast, so I was slightly chilly at the end of the day, but hopefully you can get an idea of a look that is cute and will keep you cool!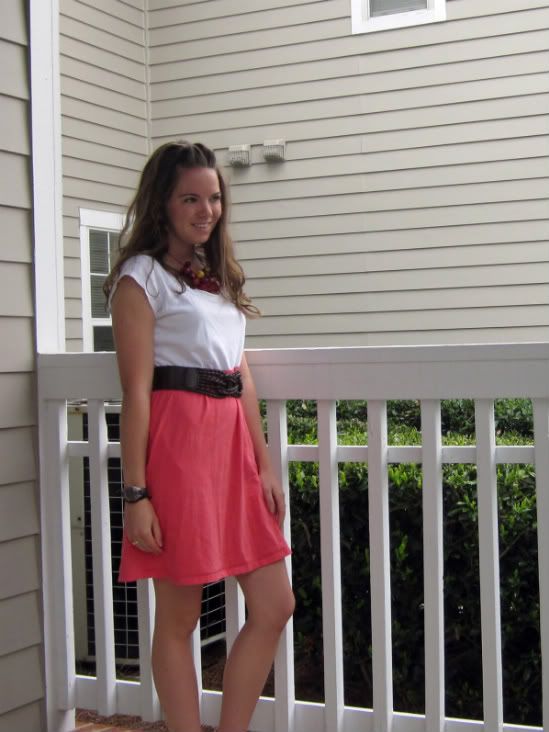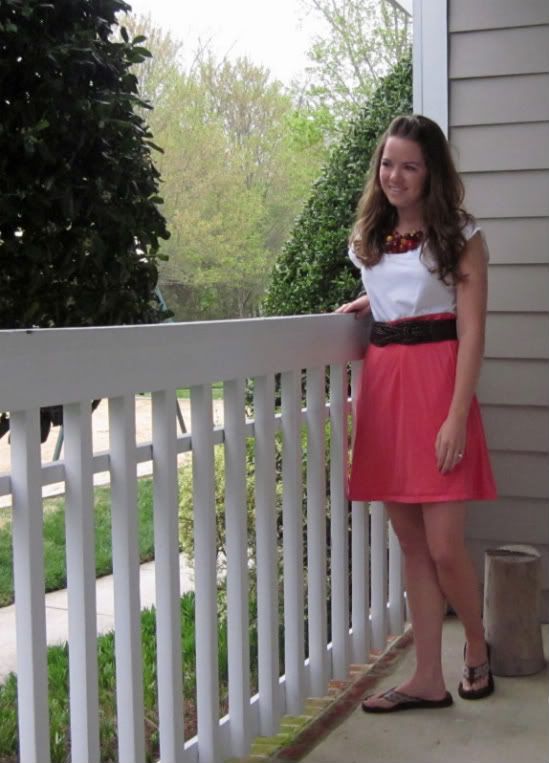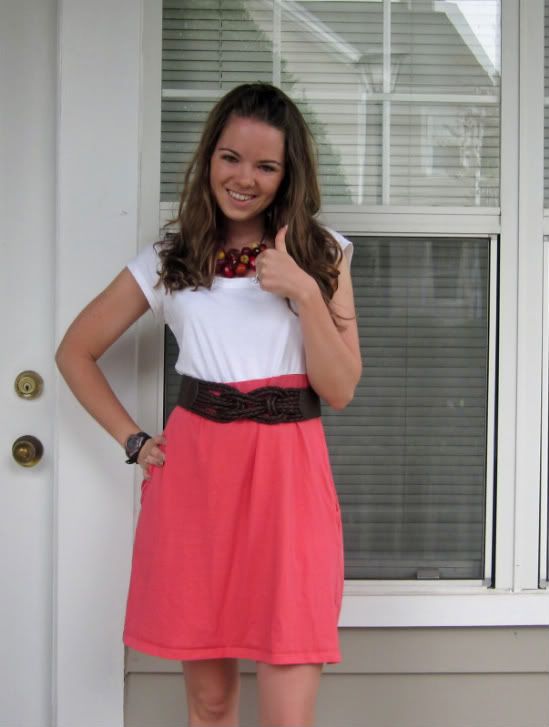 Looping Lanes Belt (Anthropologie)
Old Navy dress
Super old flipflops
NY and Company Necklace
(Thank you so much,
Sara
for cluing me in to these dresses! They're easy, comfy and cute, and I don't worry about messing them up. I bought three colors and wear them all the time in the summer as an alternative to "shorts and a t-shirt." ON may have a version out this summer that you can pick up.)
My basic formula -- because I'm a nerd, it had to be a formula -- for a summer outfit is:
(COTTON (critical piece) dress or skirt that is on the loose side of fitted + cotton fitted tee if applicable) x (cute accessories + sandals, flip flops, or other open, summer shoes) = Cute, Cool, and Comfortable!
I had to add parenthesis to maintain proper Order of Operations up there. See my epic dorkiness coming out?
If it's mind-bending-ly hot outside you may want to eliminate the accessories just to cut down on the sweat factor, but that piece is optional if you have the perfect dress or skirt.
Hair: I pin a small section of hair at the top of my head to give it some volume. If it's super hot and your hair length allows, you then will want to tie the whole thing in a low-to-mid ponytail. This is my key for getting a ponytail that I actually like and that doesn't make my hair look flat: remember to pin it up first, as I've done in these pictures. You get the exact same relief from the heat but look twice as cute!
Hope that helps give you some ideas on how to dress for warm weather! I'm back to studying for this quiz (yuck). Have a great day!