Good evening! Sorry that it's been a few days since I posted; I've been going through some personal stress and haven't had a lot of mental energy to blog. I have a special treat for you tonight, though, because I am finally putting together my new blog feature!
Styling Sisters: Ria and Katie's Outfit Interpretations
One thing that many shoppers consider when evaluating a new item for purchase is "How many different outfits/looks can I create?" My sister Ria and I noticed that we owned several of the same pieces from Anthro. Ria and I have different shapes, styles, closets and preferences, so we thought it would be fun to each put together an outfit using an Anthro piece that we have in common. Hopefully this feature will show you the versatility of some popular Anthro items and give you new ideas to wear them! Without further ado, for our first item we chose a top that many of you know and love:
the Climbing Cowlneck
! Let's see how Ria styled this lovely top: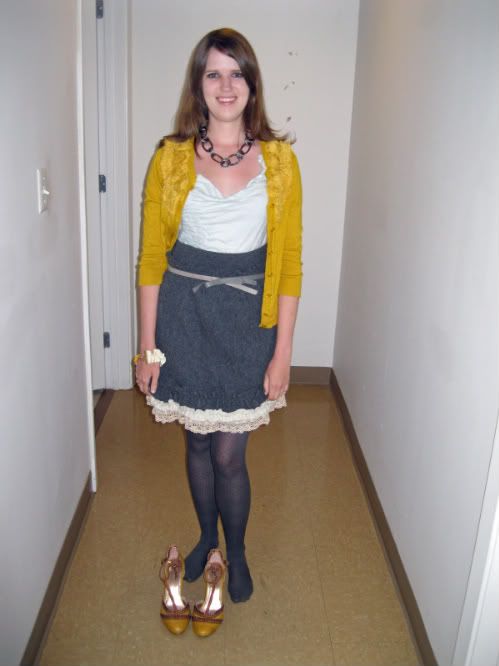 Sweater: NY and Co
Anthro:
Climbing Cowlneck
Dotty Clusters tights
Glad Rags T-straps
Modern Masters Watch
Tria Sweater Skirt
Ria loves wearing mustard, and I love how it looks with the mint green Climbing Cowlneck. The hem of her skirt and her watch add a girly-yet-funky touch, and her gray accessories pull the look together. I think this look is perfect for a young, fashionable college student like Ria!
And here's my outfit: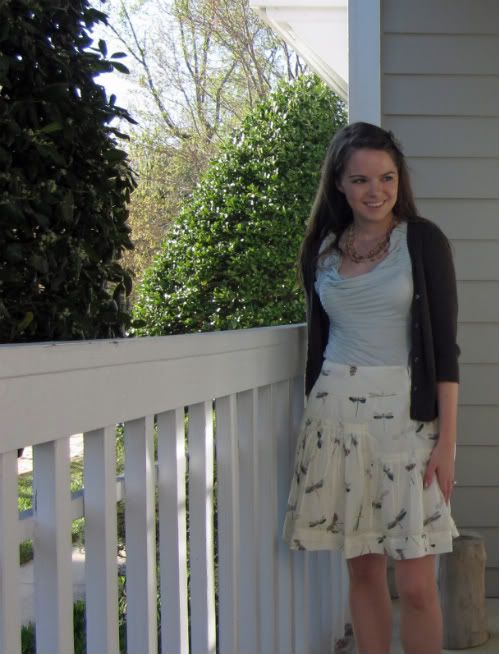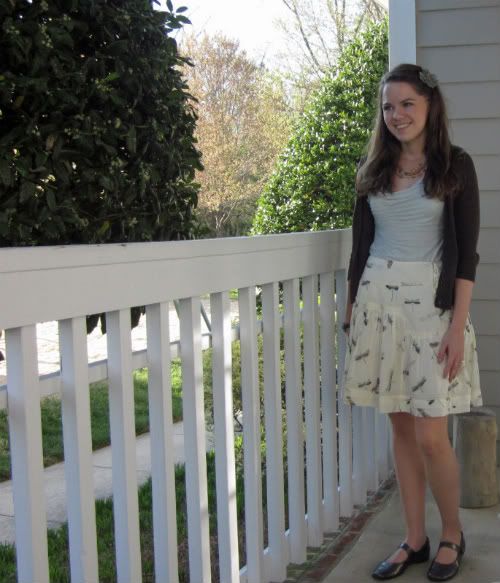 Climbing Cowlneck, Leifsdottir skirt, Gossamer hair clips (Anthropologie)
Target cardigan
Softwalk shoes
Gifted necklace
You know that I have an affinity for girly shapes and quirky prints, but I also need to be child-friendly and office appropriate due to my job. I chose a skirt that had some of the mint green hues of the Climbing Cowlneck and whose volume offset the fitted top. I think this look would be perfect for a more casual-dressy office like my own or for a weekend lunch date.
Well, that's about it for our first series of Styling Sisters. But don't go away because we have several more Anthro pieces in common that we can't wait to style for you! Do you have a particular piece or occasion/look that you'd like to see us attempt? Tell me in the comments!