Good evening! Last weekend, I paid a visit to
the mothership
Anthropologie, and I was able to try on some new (and "new") arrivals I'd been lusting over. I was definitely surprised by my reactions to several of these items, so read on to see what I loved and what I found less-lovable!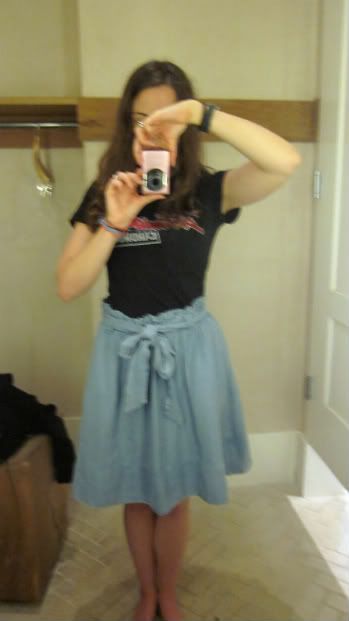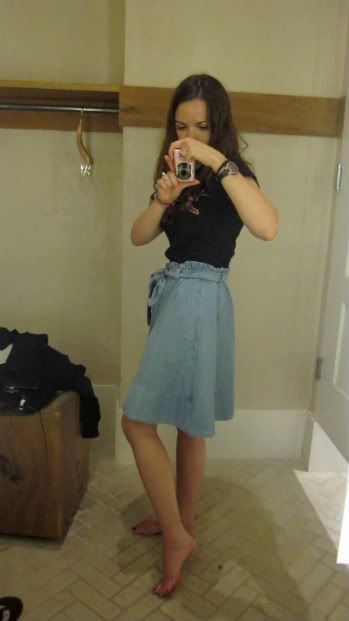 Sunday Shopping Skirt, $88
I've had my eye on this skirt for a long time, and I'm in love with the light blue color and soft fabric. My main issue with this skirt is that my store only had a size 4, and it was huge! You can see in the photos that it's way too big, so maybe in a 0 or a 2 I would like it more. This size was just way too much volume and quite overwhelming/unflattering, though. I did love the length and shape, as this is one of my favorite styles of skirts ever, and I don't own any skirts close to this color. The price is way too steep for me, and I'm not sure if I'd love it enough even at first cut. Maybe in my proper size I'd feel differently. I'll re-evaluate at sale time.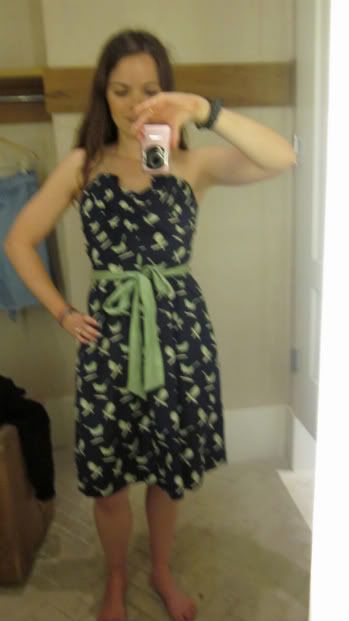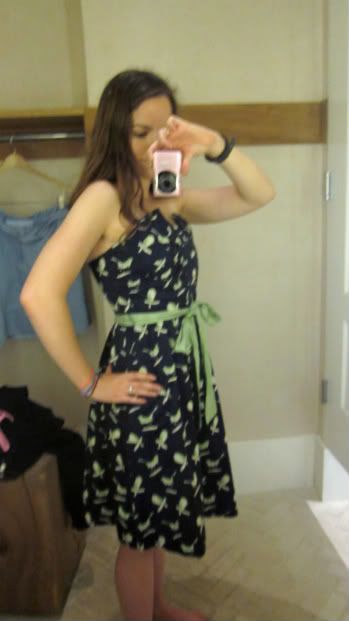 Sing Sweetly Dress, no longer online
I had a similar problem with this dress in that my store only had a 2, and I
definitely
need a 0. I'm not even sure a 0 would fit, because oh wow was the top huge. The girls and I were definitely not holding this one up. I do love the cute print with the matching sash, but strapless dresses really aren't too flattering on me, so this one's a pass. If it works for you, it seems lovely and very high quality, but I'd consider sizing down if you're smaller chested like me.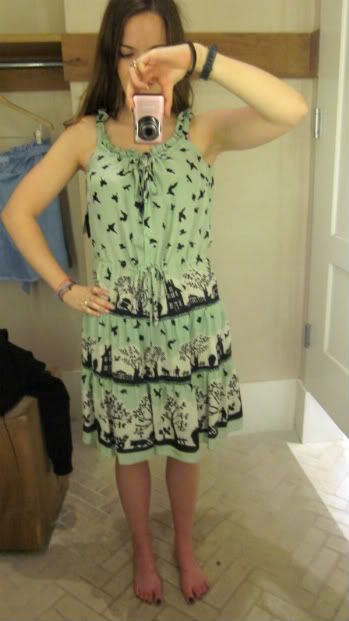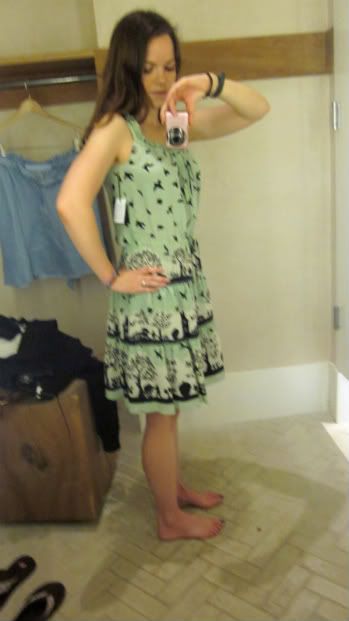 Tippi Dress, $268
Oh, dress, you know I love your amazing mint color, swingy hem and adorable print that reminds me of Halloween. However, I tragically fear that you are unflattering on me. This is a very beautiful and well made dress, but I just didn't feel like the shape did anything for me. The top was very blousey and seemed to have issues with poofing out in an unflattering shape when I moved. I do like that it ties at the waist, but I think the size 0 that I tried on was a little big -- tying it as tightly as I did may have contributed to the poof effect. I dunno, guys. I've wanted this dress forever, but I feel like the fit just isn't loving me. What do you think? The price is a definite no-go even on first cut due to my fit issues, but I may reconsider if it gets a second cut because, seriously, beautiful dress. Just maybe not for me. Sigh.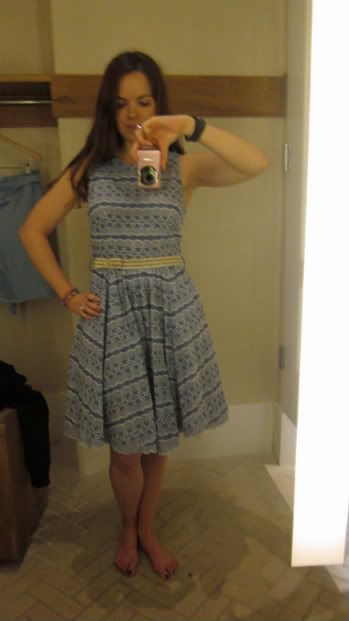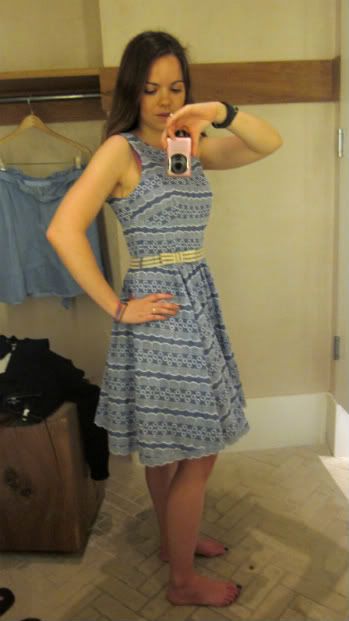 Mompos Dress, $228
This dress has been getting a ton of love in Bloggy Land, and I can see why! It's got a gorgeous shape, and I love the color, scalloped hem, and abundance of crinoline underneath. What I didn't love was, again, the fit. This may be because I have the wrong size in these photos: I read that this dress ran small, so I grabbed a 2, but I think that was a mistake as it seems a bit frumpy, and I had a bit of extra room on the top and sides. I think the super high neckline isn't doing me a lot of favors, either. The love for this dress just wasn't there for me, so I think this one's probably a pass, but I definitely think it's a great item if it works for you.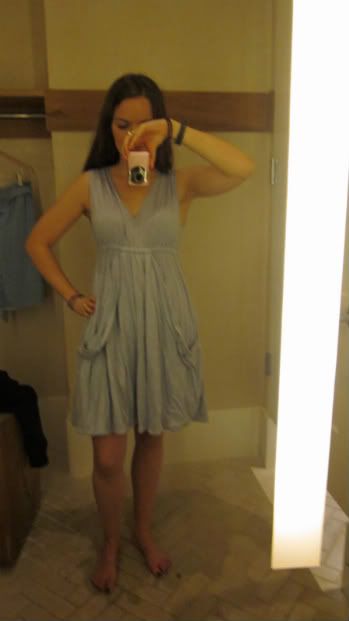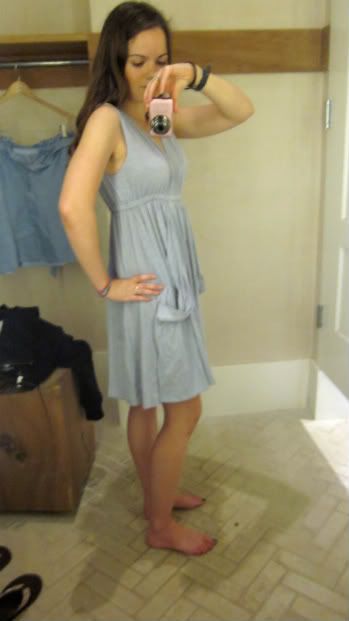 Midsummer's Chemise< $68
Oddly enough, this lovely was probably my favorite of the items I tried on! You know by now that I have a problem where I enjoy wearing loungewear as daywear, and I think this chemise could totally fit into this category. It's a very pretty blue in person that would look great with a brown belt and accessories, and the material is super soft and comfortable. If you were planning to sleep in it, it's definitely comfy enough. I didn't find it sheer at all. I'm wearing an XS and thought the fit was slouchy and comfortable, so I'd get your regular size or size down if you want a more fitted look. I just noticed that this chemise comes in a pretty turquoise, too, so I'd like to see that one in action before deciding on a color. I'd probably buy this on first cut.
All in all, this round of reviews was pretty disappointing, though my lesson of the day is that I need to see things in my true size to really know for sure if an item works for me. I was bummed that not many of the things I tried were flattering on me, but at least my wallet will be happy!
And finally, here's what I wore on my shopping extravaganza, just to prove that sometimes I really do keep it casual: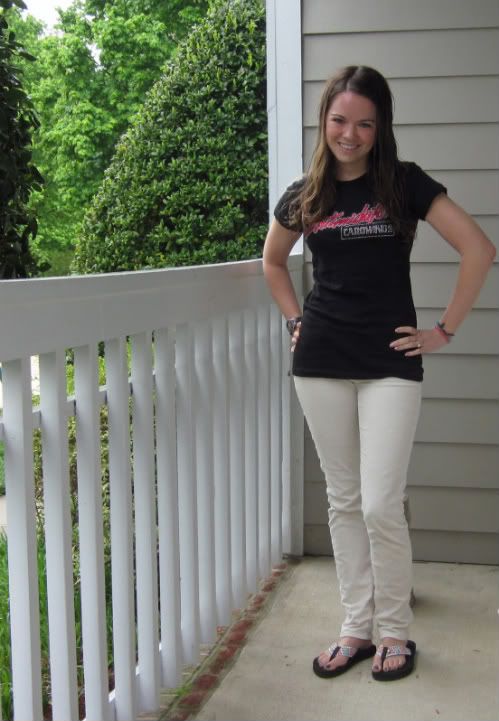 AG Stevie Cords (Anthropologie)
Intimidator tee (best rollercoaster ever! -- If you are a thrill junkie, you have to try this one; it's a hypercoaster, and the experience from the front row is amazing)
Gifted flip flops
That's about it for me tonight! Do you guys agree with my reviews, or do you think I should rethink some of them? I'm hoping that some of the May arrivals at Anthro make my heart sing a bit more than these did!