How 'bout that sale, ladies! Did you pick up anything? The
Gathering Blossoms Top
is beautiful and on my wishlist, but first cut price is too steep for me. If this one gets a second cut and I manage to track down a 0, I'll be all over it, but for now I'm sitting this sale out. Hope everyone got what they wanted!
In the spirit of positive thinking, today I wanted to share one of the (amazingly, non-Anthro ;)) things that makes me amazingly happy: exercise! You may remember that
Jewish Girl
has inspired me to enter the 2012 Disney Princess Half Marathon. I'm not the greatest runner, but I'm going to give this a shot like you wouldn't believe. For me, exercise is about regulating my mood and hormones, improving my strength and health, and having an outlet for all the stress and complications of life. I also love to eat everything from oreo milkshakes to mac and cheese, and let's be real: while I do love some healthy foods, healthy eating is not always feasible for a junk food addict like me. Give up cheesecake? No way. Eliminate French fries? Not gonna happen. Blame my long history as a competitive swimmer (we have a long history of ... not the healthiest eating habits). My dad got kicked out of all-you-can-eat buffets, no lie. I want to be able to eat the things I love and still feel like my body is decently healthy, so I turn to exercise to keep things running the way they should. I typically exercise 6-7 times a week, and my routine consists of everything from swimming to strength training (rare these days, sigh) to playing Dance Dance Revolution! I do not exercise for weight loss. Actually, physical change to my body of any kind is not really a goal, but I have had the pleasant experience lately of liking almost everything I see in the mirror, and I credit exercise for building that confidence.
Of course, what would exercise be without cute outfits to wear while doing it?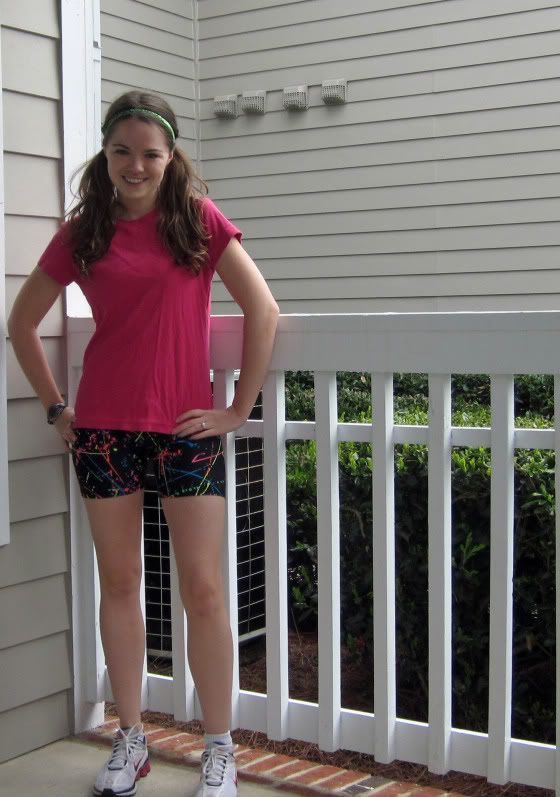 I'm wearing a
Sweaty Band
, and I can't thank Jewish Girl enough for recommending them. They do exactly what they say they will and are so cute and comfy! I'm also wearing these ridiculous shorts that my kid assistant coaches from last year's swim team wanted us all to wear to our big championship meet. They thought these shorts were the coolest things ever, so wear them I did. See what I do for "my kids"?
My favorite part about running is being able to listen to all of my awesome (read: usually obnoxious) music as loudly as I want and pretend that I'm a cool kid. I'm going to show just how dorky and shameless I am and post some choice "greatest hits" that I've been running to on repeat lately. Don't knock them until you've tried running to them!
Cute Scientist's Dorky Running Playlist:
Rebecca Black -- Friday (Oh yes, I went there.)
Stephen Colbert -- Friday (sensing a theme?)
Sean Kingston -- Fire Burning (Thank you,
Maria
!)
Taylor Swift -- I'm Only Me When I'm with You; The Story of Us
Ke$ha -- We R Who We R
Tata Young -- Sexy, Naughty, Bitchy
And to round this out, I'll add basically the completed works of Miss Hannah Montana, but lately I've been into "I'm Still Good," "Are You Ready?" and "Kiss it Goodbye"
Are you still here? Good! I have one last thing for you today: an OotD!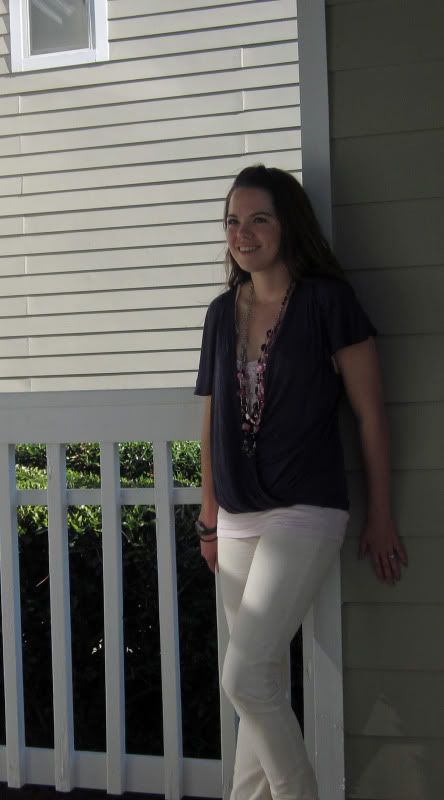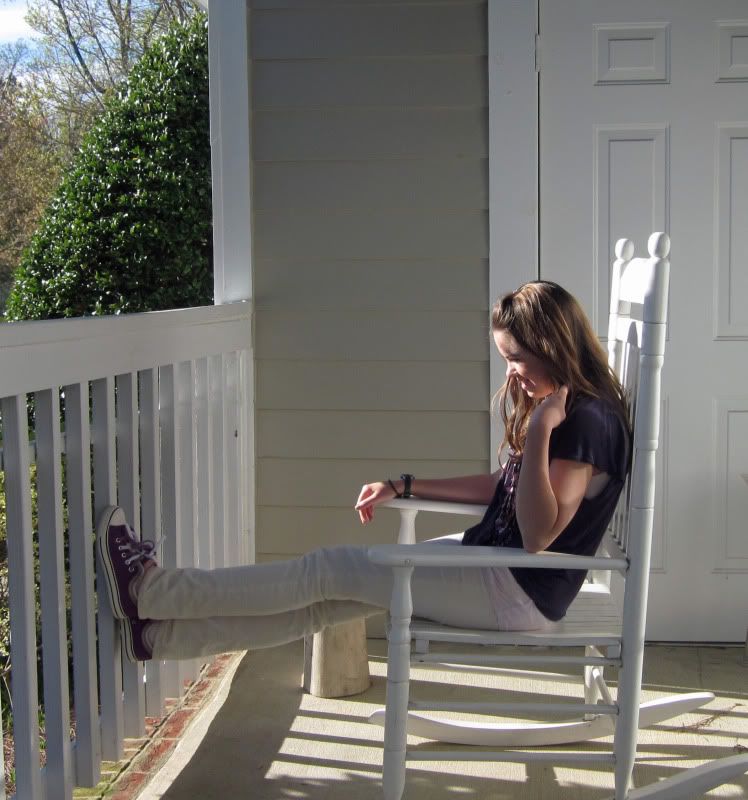 Anthropologie top (forgot the name) over Creative Outlet Tank, AG Stevie Cords
NY and Company necklace
Rack Room shoes
I had people commenting all day on how weird it was that I had pants on, no joke! Ever get the weird urge to straighten out a skirt that doesn't exist when you sit down wearing pants? It's like having a phantom limb, I tell you.
Have a great day! And get out there and get moving for me!