Bonjour! It seems I've once again been absent from bloggy-land, but will you forgive me if I bring you fitting room reviews? No? What about fitting room reviews AND an outfit post, all in the same evening? Regardless, I hope you and your loved ones had a very happy Thanksgiving. I did not participate in Black Friday because the crowds terrify me, but I did win a pretty awesome thing on Ebay. I'll tell you more about it later, but to give you a hint, it's 'vintage Anthro' and pretty awesome.
And now, onward to the reviews! When I was visiting my BFF Taylor Swift, I couldn't help but make a stop at my favorite place: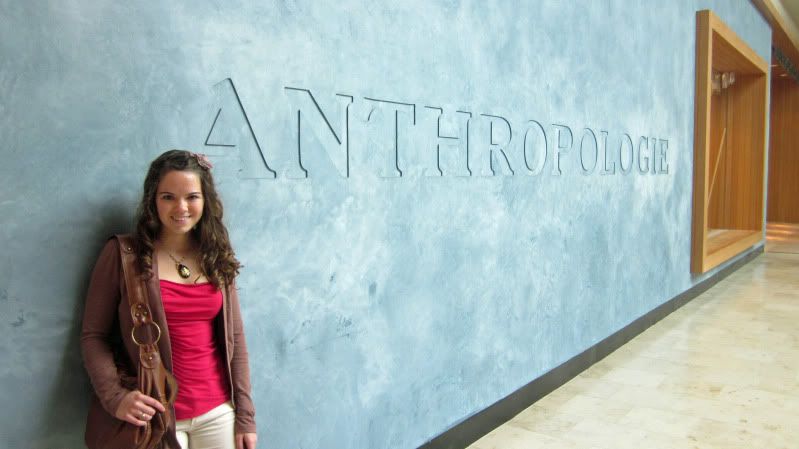 Oh yeah. I went there.
I found a lot of cool things to try on, and I wanted to share some of them with you! Sadly, due to the fact that I have no clothing budget to speak of and the lack of adequate sale-age on the things I liked, I did not bring anything home, but it did give me a lot to think about.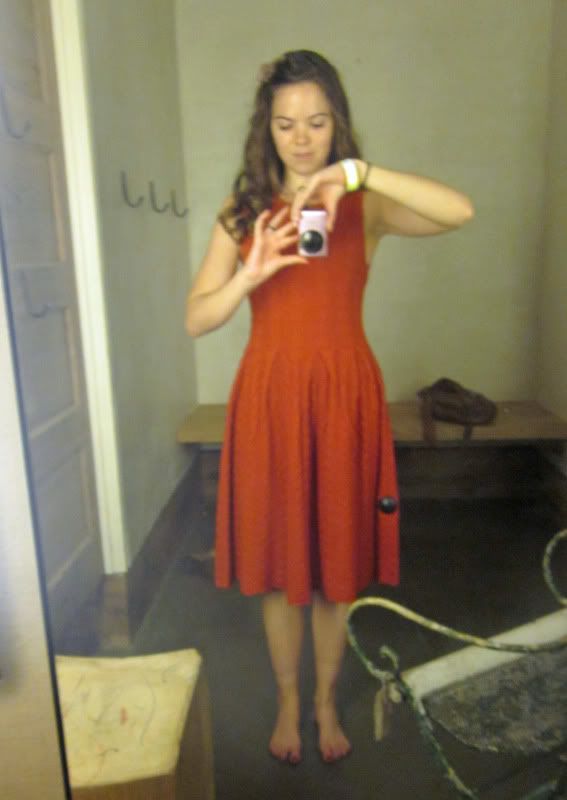 Flared and Cabled Sweater Dress, $148
I love sweater dresses, though they very often don't love me back, and I had my eye on this since it first appeared online. Unfortunately (fortunately?), I'm kind of meh on it in person. I felt like the length hit 5'3 me in an unflattering place and made me look wider than I am. The fabric was also a little itchy, but I'm sensitive to that, so it may not bother you. I did really like the color and the shape, and it seems to be well made. The gold color didn't impress me IRL and seemed drab, but the orange version is very nice. I tried on an XS and thought it was a little big, so you may want to size down, especially if you're petite. With heels and maybe a slip, this could be workable, but I don't think I love it enough. A pass for me unless it gets some epic markdown treatment. If you're tall and don't have sensitive skin, I can see this working really well.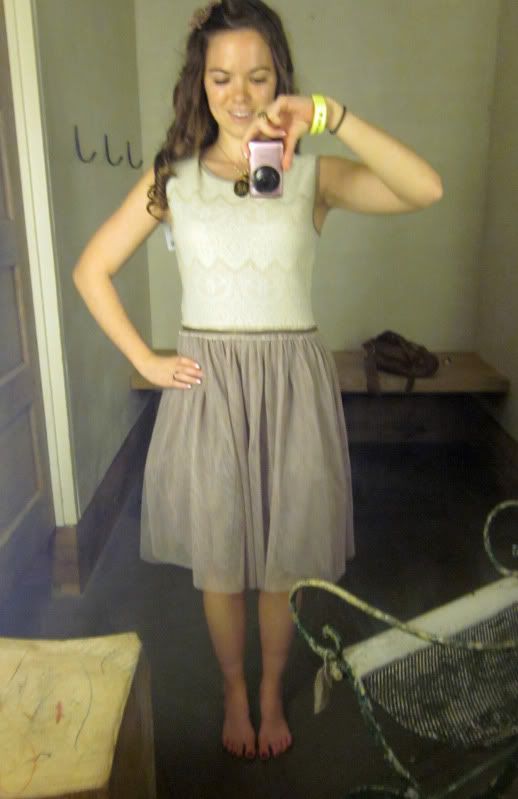 Dulcie Dress, $158
So, I like this dress. I really like this dress. I liked it so much that I tried on the wrong size just to see how the color looked on me. The above picture is a medium, and as you can see, it's way too big. I was expecting to love the lighter color more because it's more my style, but after trying on the darker version: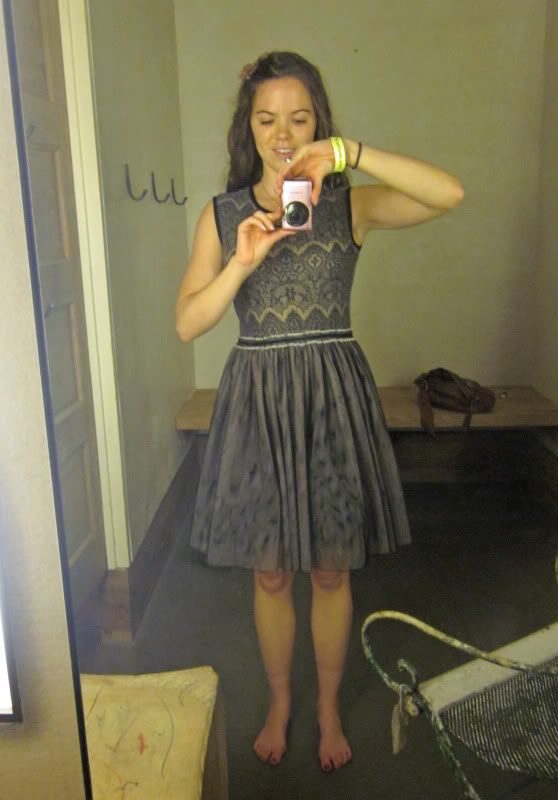 I was totally impressed with it. It's a total holiday party dress, and I wish I went to more of those so I could have an occasion to wear it, but I would totally wear this out to dinner because I am overdressed like that. Maybe it's just because I had the correct size in the black colorway, but I think I prefer this one (the above picture is an XS, and I think this dress is TTS). I was worried that the top would itch, but it actually didn't. Wonder of wonders! And of course, I'm a little crazy for the tutu it's got going on with the skirt. Because you know that my goal in life is to be a ballerina-cupcake-Pink-Power-Ranger hybrid. The length was just right for me, and I didn't find the waist too high, as some reviews have noted. I think this dress might work best on petites because of this, and if you're taller than me you may have some issues. The style is also a little out-there, and if you aren't super girly like me, it probably won't be your thing. That said, it's totally lovely IRL, and you should definitely try it to see if it works for you. I will be crossing my fingers for a sale so I can grab this.
And finally, as my mom laughed at me, I tried this on: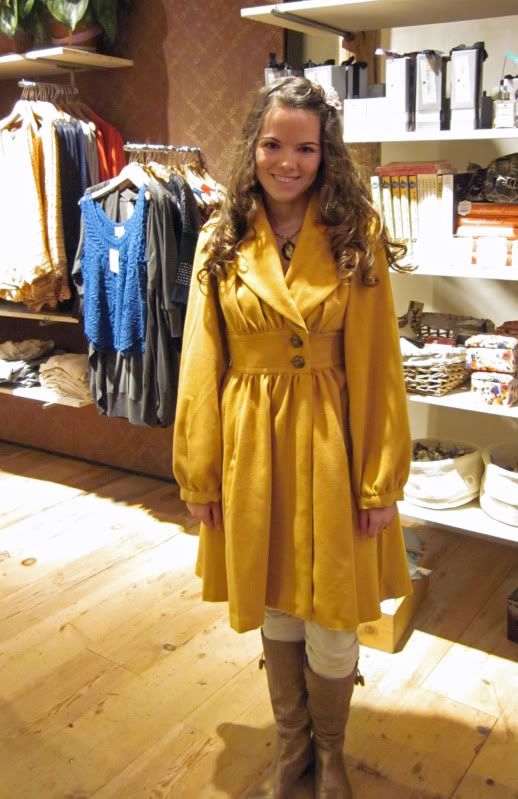 Ruched Marigold Coat, on sale for $150, sold out online but check stores!
Oh, this coat. It is a little ridiculous and crazy, but I love it. Alas, I fear we are not to be. My mom said it looked like the coat ate me. I didn't feel like it was
that
bad, but maybe my love has blinded me. This is an XS, and it's definitely on the big side, especially the sleeves and the length. If only it came in petites! I am in love with how soft and awesome this coat is, but I fear that I look like I'm playing dress-up in it, so I'm probably going to pass, as sad as that is. If you can pull this coat off, I am totally jealous of you, and you must buy it so I can live vicariously. That is an order!
And finally, an outfit from my archives: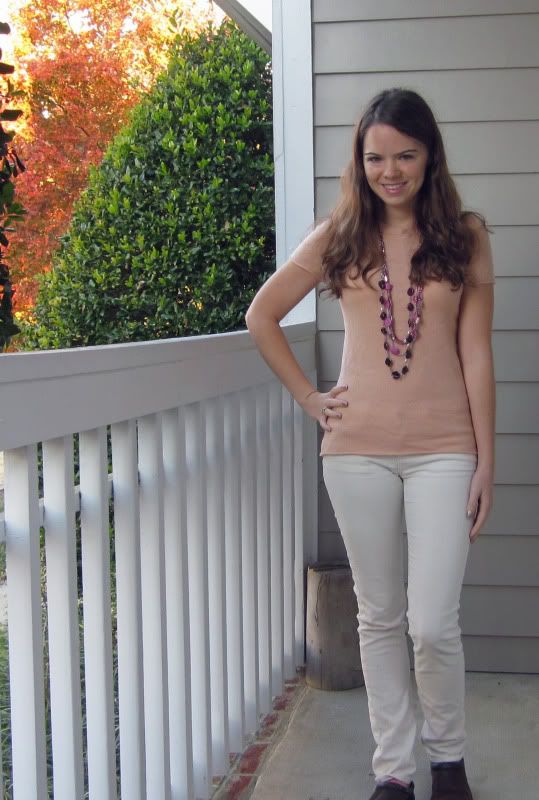 Pants: Anthro
Shirt: JCrew warehouse
Necklace: NY and Company
Shoes: Oooooold
Fall foliage: c/o this amazing weather!
... Okay, not finally. Here is a picture of my adorable kitty, to make it up to you for being gone so long: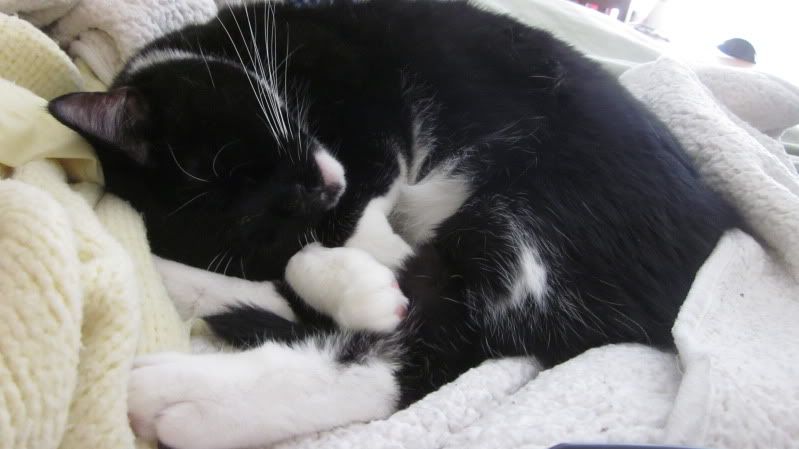 Emma says, please forgive my mommy! She promises to be a better blogger!