Good morning! Last week, my sister Ria visited me, and what was there to do but make a trip to Anthro? Overall I was underwhelmed with what we found, but we did find a couple items to like, as you'll see below. Read on to find out what we loved and what we didn't!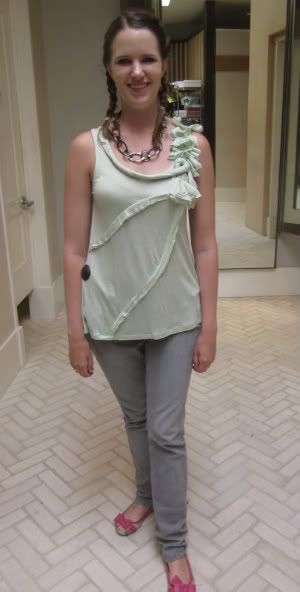 Alchemilla Tee, $68
Bleh. I know Roxy loved this one, and it looks nice on her, but it did nothing for me. This shirt looks like my sister's cats used it as a scratching post. I can'ont stand frayed edges; it looks unfinished. The only thing I liked about it was the mint color, and even that was ruined for the sheerness. For some odd reason, they had a petite petite hanging around. I tried that one and it was still too big and way too long. Nothing good to report here. Size down.
Last Pass or in the trash: Trashed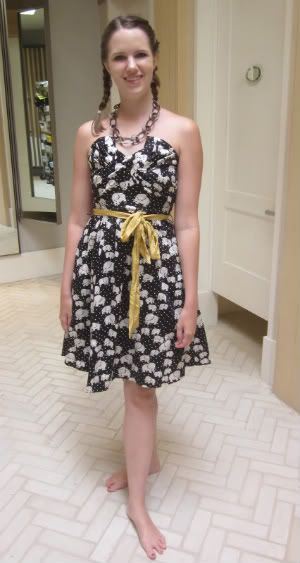 Cirque-A-Line Dress, $148
I never tried the Swing Sweetly dress (oh the joys of living three hours away from an Anthro), but I think I would have liked the black and mint combination better than the black and white. Even so, I wouldn't have bought that one either. Maybe I wasn't wearing it right or something, but my usual size 2 wouldn't even come close to zipping. It was a combination of being too tight and a horrible zipper. It's a shame because the print is so cute and reminiscant of my Pachyderm Parade dress, and if it was ever released in a shirt form I'd be all over it. As a dress though, this was definately a pass. Size up one, maybe even two sizes.
Last, Pass or in the trash: Trashed

Gull Wing Dress, now $99
Well. That's more like it. Sister didn't like anything about this one, but I absolutely adored it. The only tiny complaint I have is that it took me about five minutes to get into, but I think that was more me than the dress. The silk is high quality and the color is to die for (and I think it really suits my skin tone, though Sister disagrees). This dress wasn't on my radar in the "red" (read: orange) or navy, but I'm nuts over the plum. I stood in front of the mirror for a long time just swishing the skirt. In the words of Ron Stoppable, the skirt is so flippy. Some people might shy away from this dress and call it strictly a party dress, but I disagree. I can see a cherries 'n cream kind of thing with a long sleeved cream cardigan, brown tights, brown boots, and my 101 Dalmations Anita Daaaaaahling cloche. It looked big on the hanger, so I brought both a 0 and a 2 into the dressing room and I'm wearing the 0 here. It was so perfect I didn't even bother to try on the 2, so you may need to size down.
Last, Pass, or in the trash: I would have brought this one home if I wasn't 100% sure a second cut was coming (it's still available in all colors and most sizes online). Waiting very impatiently for 2nd cut.
Spiced Dress, no longer online
Okay, this dress is beautiful in theory, but I'm not sure who it's supposed to fit. The bust was insanely tight, for one, and I don't consider myself particularly well-endowed. I tried on a 0, and it didn't even come close to zipping, so I think I'd need a 4. I didn't bother, though, because the straps were ill-fitting and would have been way too long in that size. The fabric is very nice and the skirt is awesome, but this was not a dress that was going to work for me. I also felt like the color didn't do me any favors. Pass for me, size up two sizes if you love it unless you are
very
small-busted.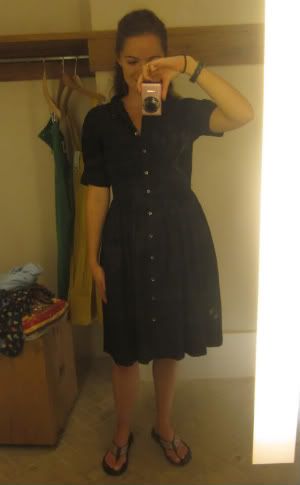 Sunrise Shirt Dress, now $50
I was not a fan of this dress. Maybe it was just because I tried on a 2 and needed a 0, but it felt big and shapeless, especially in the black. The fabric is soft, but that's about the only good thing I had to say about it. Pass for me. I predict this will get another cut if you have your eye on it, since there's still stock online at the second cut price.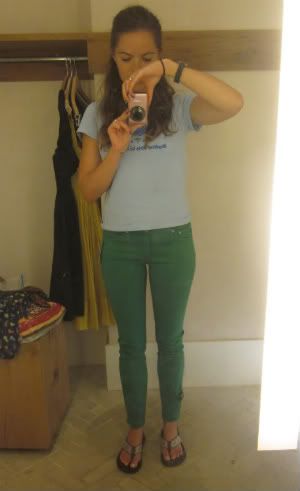 AG Stevie Ankle pants, $158
Finally, an item I liked! I came to Anthro to try on these pants, and they didn't disappoint. The kelly green color is gorgeous, and they're very soft and comfortable. It's definitely a "skinny" fit, so if you're not into that style these may not be for you, but I didn't mind. On 5'3 me, they weren't particularly "ankle" length in my opinion, but I actually liked that since they'll be more appropriate for colder weather. I might want to try on the 26s just to see if they fit better, though (this is a size 25, which I took in the cords, but these aren't as stretchy). I felt like they might be too tight on my newly-athletic-from-running calves. Regardless, once these pants hit sale I am definitely picking them up, possibly in two colors. I think they'll be great for fall and spring.