Oh man, guys. It's been a trying week.
Those of you who know me outside my blog know that my concert evening did not go exactly as planned. The short version is that a terrible traffic accident gridlocked my entire city and made it completely impossible to leave town for over five hours on the day of the concert. My friend and I tried every road my GPS could come up with, and there was absolutely no way (short of learning to fly or building a teleporter) to get there on time -- and we'd even left an hour and a half early to account for traffic! What a nightmare. In fact, I'm still sort of hoping I'll wake up and realize it really was a nightmare. But the important thing is that we could have been hurt or killed, and we weren't, and many others were. It was a truly terrible multi-car accident that resulted in many fatalities, and at the end of the day I'm just grateful that we weren't among them. My heart goes out to the victims and their families. I've had a bit of a difficult time processing my experience for a lot of reasons, which is why I've been absent from the blog. I'm glad to be back, though, and I hope you can understand!
We did manage to salvage our evening with a trip to The Cheesecake Factory (hi, favorite restaurant) for some much-needed martinis.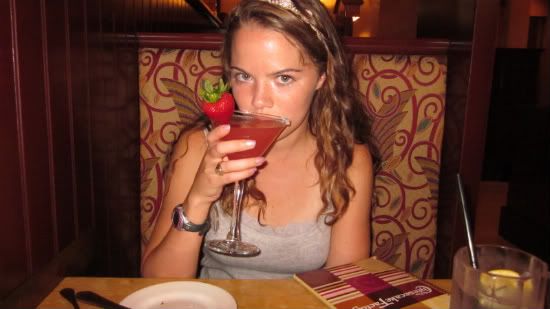 It was good. And I needed it.
Then we took a trip to Urban Outfitters, which I don't visit often but we needed some retail therapy to kill time before our boo-no-Taylor-Swift movie. I found these: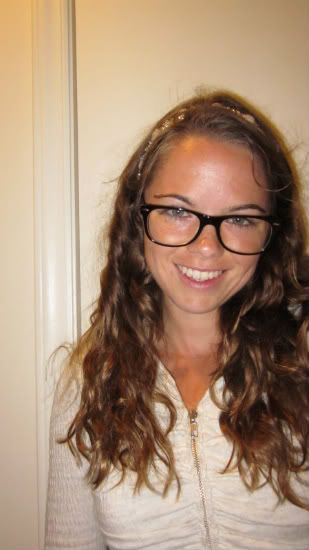 Glasses! I do not need them, but I was pretending to be Taylor in her
You Belong With Me
vid. No, I am serious. This is the sadness to which my evening descended.
I got a couple great skirts at UO that you'll be seeing on the blog in the next few weeks. For now, have my post-missing-out-on-Taylor outfit, which includes my awesome nerd glasses and one of my new skirts: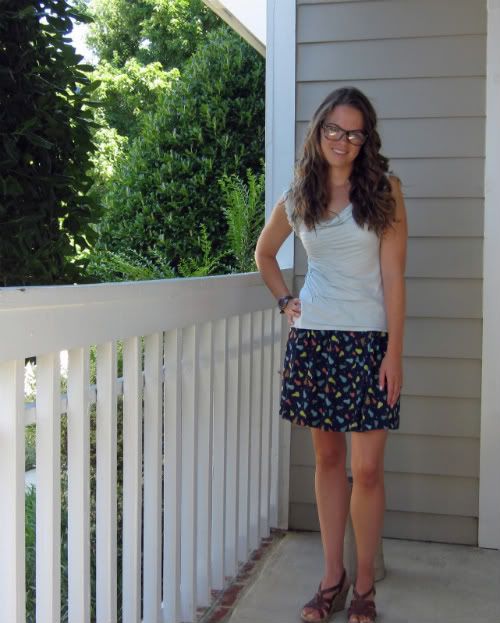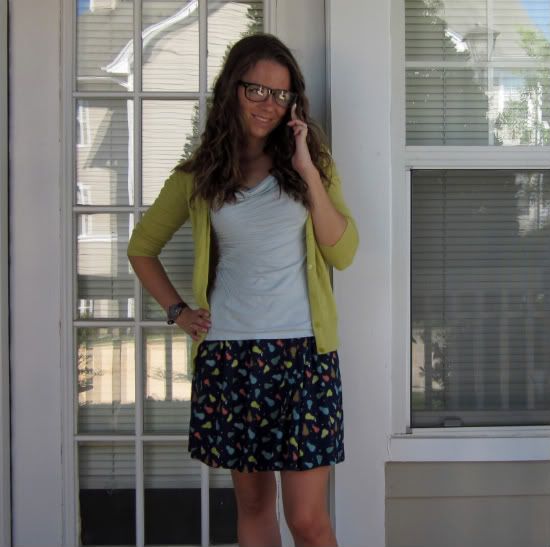 So, I loved
these shorts from Anthro
, until I realized that they were, you know, shorts, and not the skirt I thought I was trying on. Fail, Katie. But I got attached to the idea of a skirt with pears on it, and I was so pleased to find this one at UO, which I actually like better.
Okay, I'm going to post this before I get caught in the blogging blues again and convince myself not to post it. I'm sorry for my absence, and hopefully things will look up from here. Also, I just bought another ticket to an upcoming Taylor show, so I have hope that I'll get to see her someday soon!