Crepes on the Cape Skirt
Three things that I love:
1.) Delicious crepes fresh from the neighborhood crepe truck. (Yes, we have one, and yes, you should be jealous.)
2.) Light pink.
3.) Versatile, flowy skirts
You can probably see why the Crepes on the Cape Skirt enticed me into my very first ModCloth purchase! I've heard mixed reviews of ModCloth's items, so I was a bit skeptical, but I decided to risk it given their free returns.
First, I was really pleased with ModCloth's speedy delivery: I received my items just a little over two days after I placed my order, and I chose standard shipping! This was weird to me because I've heard that they can take awhile to ship, so maybe I just lucked out, but I was quite pleased. My skirt was nicely packaged as well, and I enjoyed the friendly, personal tone of even their automated emails.
Now, onto the skirt itself. I ordered a small and really wished it came in an XS, because it is definitely big. I wouldn't necessarily fault the skirt for this, though, since it fit like most size small skirts tend to fit on me. There's an inch or two of extra room, but honestly I like this skirt enough to make it work. It's also a couple inches longer than I normally like, but heels solve that problem. Why am I willing to let all of this go? Well, simply put, for $35 this is a darn nice skirt! The quality is excellent for the price. If you're looking for $200-skirt quality, obviously you will not find it here, but it's great for what it is, and I expect it'll last me a long time. I like that it's lined and yet the weight is perfect for summer. And, seriously, how perfect is this color? It's very much a Katie Skirt, and I'm drooling over the possible outfits I could make with it. I'm already impatiently waiting for enough time to pass that I can get away with wearing this again without people wondering if I own other clothes.
I would highly recommend this skirt, and now I'm wondering if there are more ModCloth purchases in my future! I'm really loving
this
,
this
, and
this color too!
Here is your obligatory IRL photo as well as my first attempt at styling it: (Taken right before my camera battery gave out, so please excuse any weirdness.)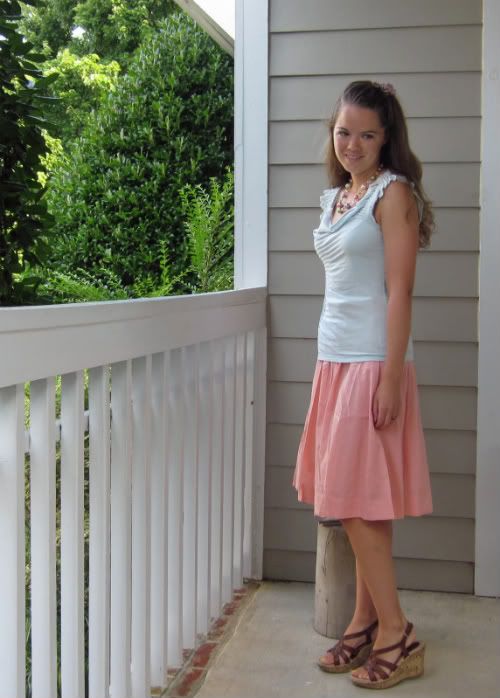 Overall, I'd say losing my ModCloth Virginity was a great experience. What do you guys think of ModCloth? Any good/bad experiences to share?