Oh my goodness, I am sorry for my absence! Things have just been crazy here with my two jobs, and I haven't had the mental energy for blogging. I've still been taking outfit pictures but just haven't been posting them. I really hope to get back into the groove of things soon, especially with the swim team season finishing in a few weeks (noooo!). Tonight I am going to see my HERO Taylor Swift, and I haven't really decided what I'm going to wear, but I think it includes the
Superfluous Bellows Hoodie
. Yes, I broke down and bought this after two times in the store of hemming and hawing. I just didn't see anything else I really loved and needed to use my birthday discount. The SA was really sweet and had no problems allowing me to use my online discount in the store, which I was glad for as paying shipping (as I explained) would eat my entire discount online. I think this will work for a girly concert, but we'll see what I come up with.
I finally have a few minutes to myself before work, so I'm taking the time to upload a quick casual outfit. I wore this on the weekend to go shopping.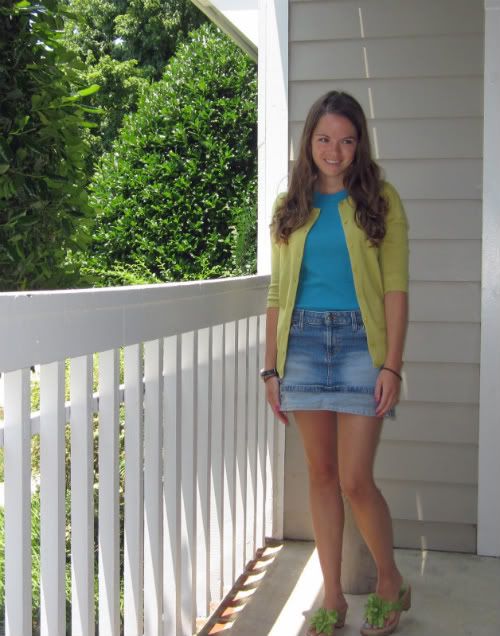 Skirt: OLD
Cardigan and top: Gifts from Mom for my birthday
Shoes: b.o.c.
I received this cardigan for my birthday, and while it's definitely not a color I would have picked out, I really like it both with my features and in making outfits. It's been surprisingly versatile and flattering, especially considering that I put together this outfit while a little upset and didn't want to really care about what I was wearing.
...
Am I still allowed to wear mini skirts at twenty-five? Especially ones that I've had since high school? Uh oh. Maybe I'm not. You won't tell, will you?
... What if I wear them with conservative cardigans? Maybe?