Now that swim team is over (cry), there are definitely a few things I'm not going to miss. Like having my evenings completely eaten up by chlorine. Today I get to go be a nerd at the planetarium, which wouldn't have been possible during the swimming season. I try to remind myself of things like this when the clock strikes 5:00 and I think "Oh crap, I'm supposed to be at the pool -- oh wait. =("
Before I go learn about the summer sky, though, I wanted to post two quick outfits to prove that I really do wear pants sometimes. Maybe the same pair of pants, but I do wear them! I wanted to show two different outfits with an article of clothing that I don't wear often (the first one also features a top that I bought years ago when I had no idea how to wear clothes and that I
definitely
don't wear often, so it's a double whammy of unloved items!), so you get two different days' worth of outfits. Yes, I realize that white pants are the farthest thing from unusual for most people, but for me this is definitely atypical. Hush, you.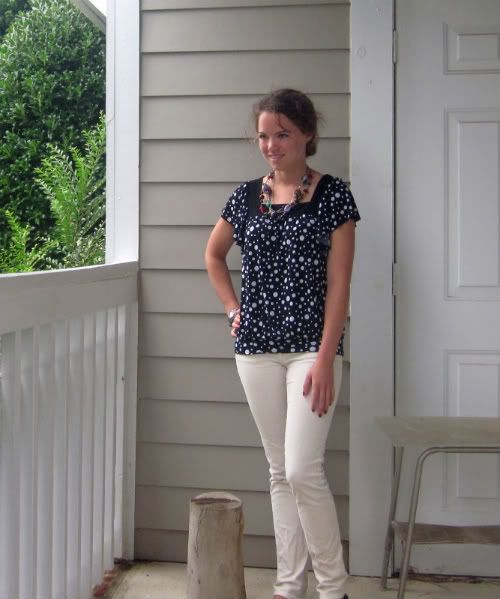 Top: JC Penny, super old
Pants: AG Stevie Cords, Anthropologie
Necklace: From my work hospital
Hair: Three-days-of-chlorine disaster. No, you don't want a closer look.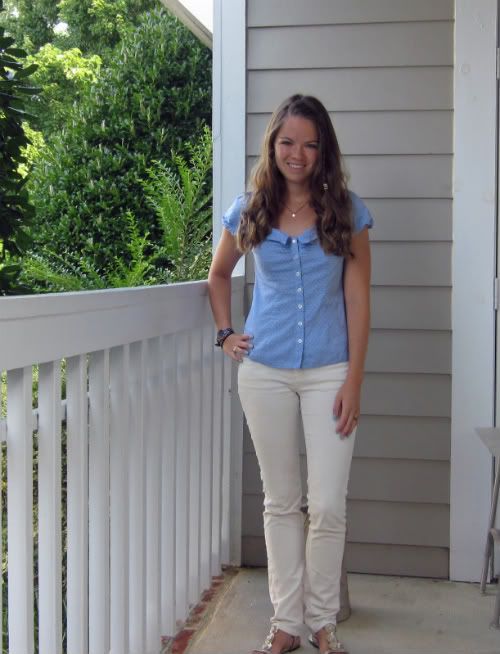 Top: Anthropologie Picture Frame Blouse
Pants: AG Stevie Cords, Anthropologie
Shoes: Rack Room (Cupcake kids shoes)
Necklace: Gift from my sweet college roommate
Hair: I washed it! During swim team! Be proud of me!