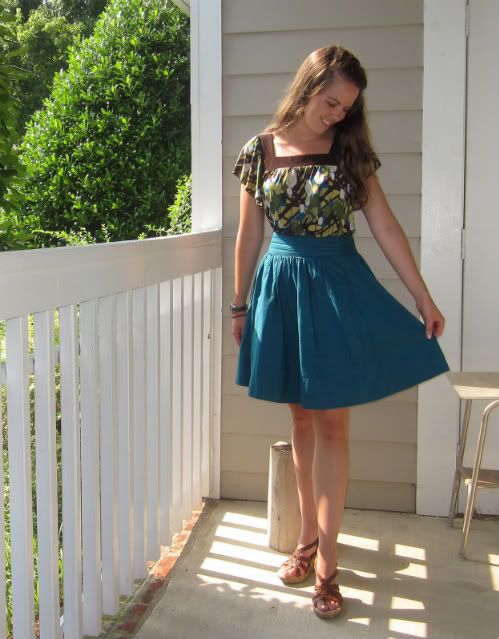 Anthropologie Circle the Globe Skirt
Super old Penny's top
b.o.c shoes from Belk
This outfit is another episode of Closet Resurrection. I bought this top before I learned how to
trick people into thinking you know how to get dressed
and accordingly had no clue how to wear it. I didn't think it looked good, but I didn't know what to do about it and I bought it because I Needed Something That Wasn't A T-Shirt. The other day I happened to put it with this skirt and noticed that the teal color almost exactly matches. It was totally a "rule-breaking" outfit for me because this shirt had been exiled to the Fashion Disaster Period of my life, but overall I liked how it turned out. And hey, I didn't even feel like a tent! (Holy wow, did I just put a flowy top with a flowy skirt? And tuck it in? What has happened to me??)
And finally, I wanted to post a quick shot of what I look like for several hours of the day during the summer. This is my 'dressy' coach shirt that I wear to meets -- it is fancy because it helps me survive 100-degree summers without fainting. Although I did narrowly avoid that at last night's meet when I had a run-in with heat stroke, but no worries, I'm okay now!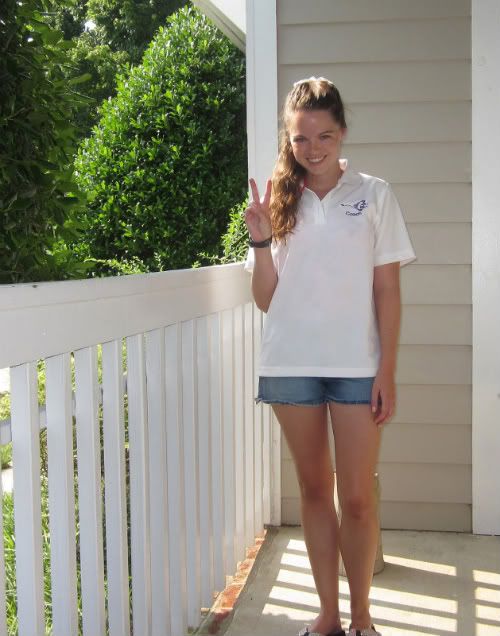 My busy day continues, so I've gotta run. Have a great day!
PS: I tried to post this earlier, but my pictures were hating me. I finally got them to an acceptable size, and I'm calling it good! I apologize if you saw the giant ones earlier!