Oh wow, everybody. I've really done it now.
So on Saturday, I was doing my usual laps in the pool when I decided to do butterfly kick with fins. In a charming display of stupidity, I decided not to kick in streamline (thus avoiding any chance of my hands stopping me from hitting the wall headfirst) and decided that five feet from the wall would be a great time to practice proper head position in swimming. Proper head position in swimming is looking at the bottom of the pool with the water line along the top of your head. This is great for swimming faster with more efficiency. It is not so great for avoiding running into the wall headfirst at full speed.
Um. Ow.
That cracking noise will stay with me for the rest of my life, let me tell you. I get chills every time I think about it. I have no clue what possessed me to be so dumb, but as of now I seem to be okay. My head and neck really hurt, but I'm taking advil and taking it easy. This unfortunately means that there won't be any exercise in my future for a few days. I don't think I need an MRI at this point, but I'm keeping tabs on the situation -- and I work in a hospital, so I think I'm in good shape should I need some help.
To take my mind off my stupid swimmer tricks, I'm gonna post an old outfit. I was trying to do something new with my hair which may or may not have worked. Enjoy it, though, because soon my outfit pictures will feature boring, maybe-not-brushed hair since fixing it has taken a turn for the painful these days for obvious reasons.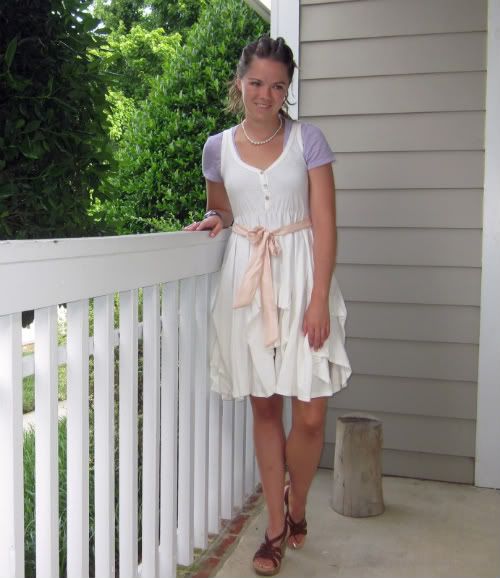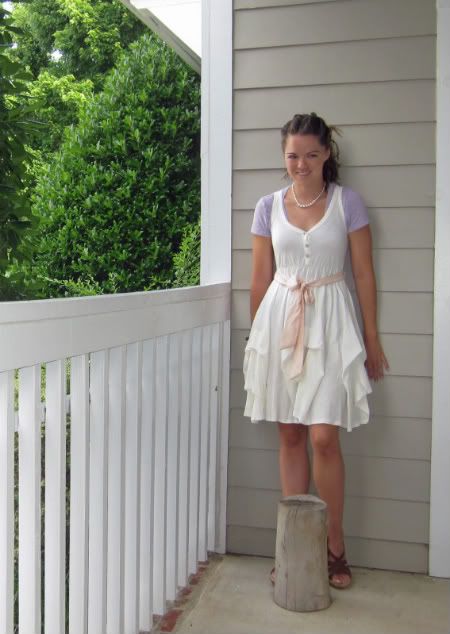 Guava Flower Chemise (Anthropologie)
Old Navy tee
b.o.c. shoes
(very fake) pearls from Kohl's
This is yet another entry in my "Katie likes to wear nightgowns outside the house" diary, and I was really happy with the way it turned out!
Well, I'm off to go nurse my poor head/neck and probably feel a little sorry for myself at work. The good news is that it's only two days until my birthday, and I'm taking Wednesday-Friday off! I need a vacation in all the worst ways and can't wait for doing nothing but relaxing by the pool, reading all the books I've started in the past few months, eating delicious food, and (of course) shopping. Hope you guys are having a better and safer day than I did last weekend!