I guess the Blogging Gods just don't want me to post, huh? When I finally get a moment, Blogger doesn't allow me to log in for three days! So frustrating! They finally got things fixed, it seems, so I'm finally back to post Ria's latest Anthropologie reviews. She tried on a lot of new and popular items, and I hope you find her take helpful. With that said, take it away, Ria!
Eh hem. So apparently graduating+Anthro is a dangerous thing. I recently graduated from college and found myself with a 200 dollar gift card burning a hole in my pocket. I carefully made out a list of small items that I would patiently wait to go on sale, in order to make the most of it. Then of course, I walked through Anthro's door, forgot all about my careful planning, and pounced on a full priced item I've been loving. Typical.




Verdant Slip Dress

There was only one of these left in the entire store and it just happened to be my size, a 2. It was shoved way in the back of a rack of similar dresses, which is probably why it was still hanging around.

And WHAT. THE. FUDGE. Look at that. Just look at what that dress is doing to my stick figure body. The Anthro magician has pulled hips and a chest out of her bag of tricks. The silk is the most comfortable of any silk dress I've tried on at Anthro. The colors are vibrant and really suitable for my eye and skin color. I wanted it. I wanted it bad. I dithered for about twenty minutes in the dressing room, but decided it was too expensive, even with my gift card. Then I went to lunch. And...and I got to thinking. I have several weddings to go to this summer. And engagement parties. And bridal showers. And a baby shower. And a rehersal dinner. And I have so many occasions to wear it to. And JUST LOOK AT IT. I bolted down my pizza, then ran as fast as I could back to the store. Please still be there. Please, Anthro genie, let it still be there! And it was! So I snatched it up, hurried to the register, and literally giggling with glee handed over the gift card. My full price purchases at Anthro are so rare, I *might* make one every six months. Maybe. This one will be by far my most expensive one and I'm feeling a twinge of buyer's remorse. I love it, but…do I keep it?

Will it last, pass, or is it in the trash? I…I…I DON'T KNOW!!! HELP!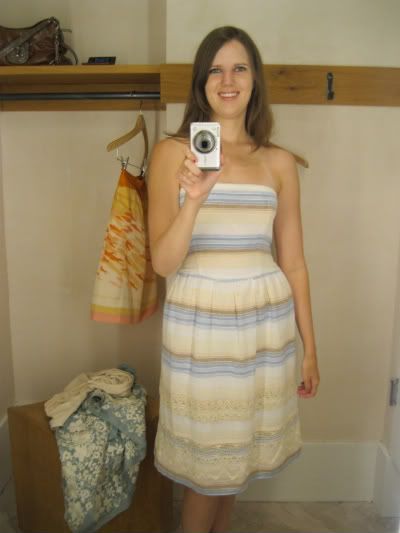 Mystery Dress: (Update from Katie: this is called the Sky Stories Dress!)

Sorry, I forgot to check the tag to see who the designer is. I'm wearing a small in this pic and it's just the tiniest bit big on me, which says this dress probably runs tts (I'm usually an xs).

Let me explain something. Everything in my new apartment near my law school is blue or brown or blue and brown. It's my favorite color scheme. So I kind of love this dress. The material is similar to the Ardennes skirt and it's extremely comfortable. There's boning near the bust, similar to my Pachyderm Parade dress, so it's not terribly hard to hold up. I just…really really hate strapless. It's the enemy of small chested girls everywhere. Sigh. I had the same problem with the Butterfly Net Dress, which I loved almost as much as this one, but still. Strapless. That probably makes this one a pass for me, but since I love the colors I'll consider it at sale time.

Will it last, pass, or is it in the trash? Sale time consideration.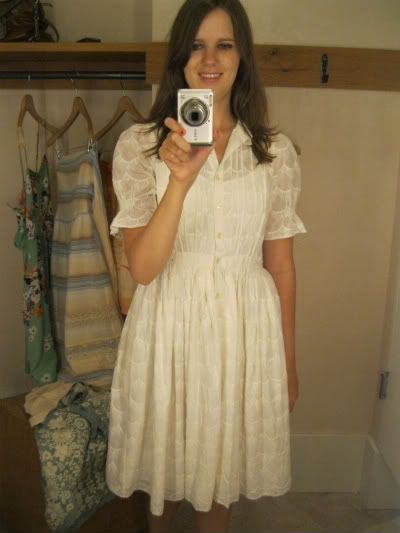 Sunrise Shirtdress:

Ha. Haha. Hahahahaha! Now, I like cute and sweet and frilly, and I was really keen on this dress when it first appeared on the website. But obviously the designer did not believe in the motto "less is more." I'm wearing a 2 and it fits tts, but that's about the only compliment I can give it. Drab color, puffy sleeves that make even the skinniest arms look large, and bulky fabric that would be incredibly hot in the summertime. No thank you.

Will it last, pass, or is it in the trash? Slam the lid down on this one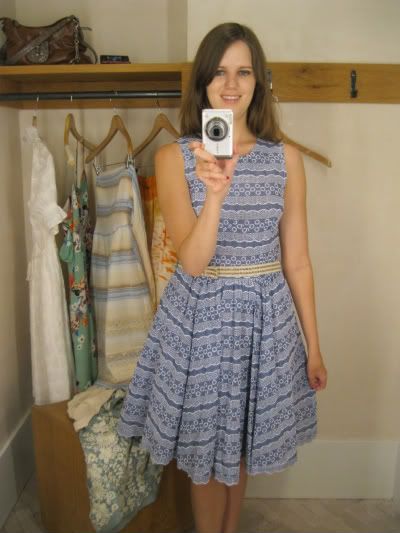 Mompos Dress:

Yep, I tried it on, in a size 2. It fits tts. And I still don't get all the hype. I mean, don't get me wrong, it's nice. It's well made and I think it'd be worth around 150 (anything over that for a dress at Anthro is ridiculous). It just…didn't really do it for me. And it's funny because I normally love that cornflower blue. But the material that others have called sturdy felt bulky to me. And I wasn't really feeling the belt or all that crinoline either. I think it would be too hot for a Charleston summer, plus after this summer's festivities I'm not sure where I'd ever wear it. I could dress down the Verdant Slip, but this one is purely an event dress. And if I'm being honest with myself, I don't need more than one of those for my lifestyle, and I already have one that I love (Dillard's, 40 bucks :D). I wouldn't fault you for getting it, but it's not for me.

Will it last, pass, or is it in the trash? Pass, but I can respect it nonetheless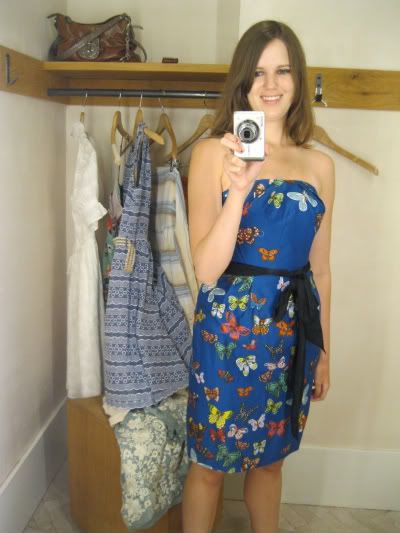 Butterfly Net Dress:

I think this royal blue color is the most flattering color in the spectrum for me. I also love the length and the comfy material, though not as breathable as Verdant Slip. That plus the insanely adorable print makes this dress really hard to pass on. And like Verdant Slip, it makes me look like I had a butt. That's always a plus. But pass I must, as it is strapless. I don't want to spend my day tugging up the front to avoid giving passerbys a peep show. I'm wearing a 2 and (again) it fits tts. Kudos on the accurate sizing, Anthro.

Will it last, pass, or is it in the trash? Pass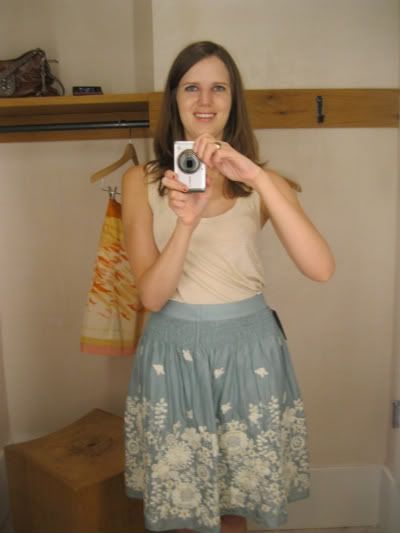 Sagebrush Skirt:

You know, it's a shame the fit on this skirt is so horrible. I really love the sea foam color, and it would look fantastic with a pair of sea foam heels I've been eyeing (the Diamond Wave Slingbacks, WHY WILL YOU NOT MAKE SALE???). But the fit is like if the Circle the Globe skirt, which I owned and loved, had a mutant child. Circle the Globe was poofy too, but somehow cinched in at the waist and maintained a flattering silloette. This one…not so much. It's just a massive amount of poof all over. Now, I'm not short, but it was still way too much for me. Ick. No thanks.

Will it last, pass, or is it in the trash? Pass again!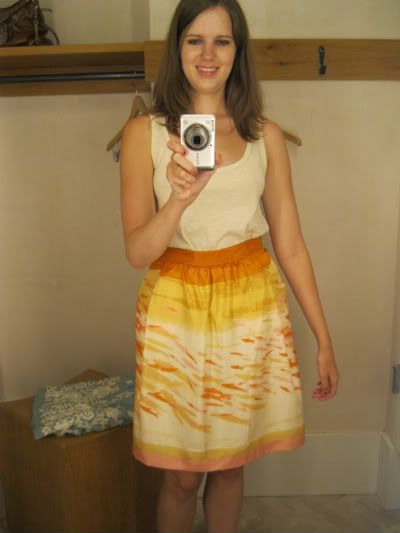 Goldfish Bowl Skirt:

This was the one, solitary item that got cut in the Baggy Potato Sack sale…erm, I mean the Tag sale that even slightly appealed to me. The cut is similar to the Pinochle skirt from last fall, and I love the bright colors. The material feels cheaper though, and ick at dry clean only. Plus, I'm concerned the fit is too much of a bubble shape, which I'm not a fan of. But I love fishies, so if this pretty makes it to second cut I'll probably pick it up. Runs TTS.

Will it last, pass, or is it in the trash? A possible second cut purchase
That's all for this round of Ria's reviews. What do you think? (I will say that I kinda like the Sunrise Shirtdress on Ria even though she didn't, but I'm really glad she got the Verdant Slip.) Let us know!