First: 60 followers!! Hi, followers!! I love you!!
I know I've been kind of terrible about posting lately, but I promise that I
have
still been taking outfit pictures. I've just been doing the 13 (usually it is down to 12, which is excellent)-hour day thing, and everything in my life has been suffering, not just the blog. My house looks like it's auditioning for one of those Hoarders shows, I haven't worn makeup in over a week, and my idea of exercise is now 3.5 hours of helping kids get down the pool, swimming back to get more kids, demonstrating things for kids, running after kids, etc. Luckily there's a holiday weekend on the horizon, so I'm trying to focus on that. I actually have some Reviews By Ria that my sister has been bugging me to post, and I hope to find time/energy to get them up really soon. She tried on some great new items, so you'll definitely want to stay tuned for that.
For now, though, unfortunately posting a random outfit is a lot quicker and easier, so that's what I'm going to post!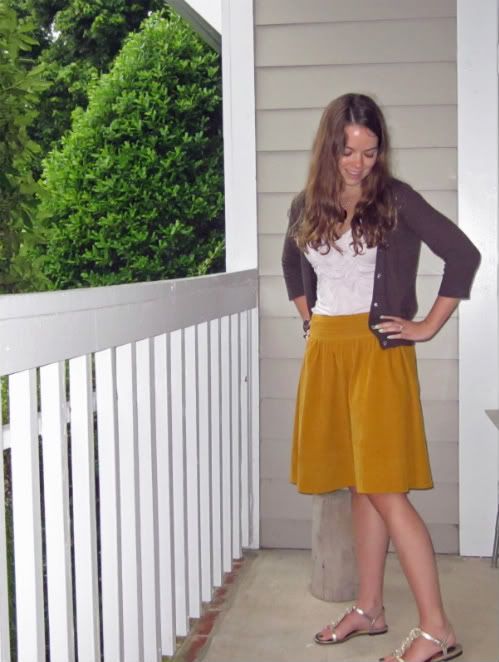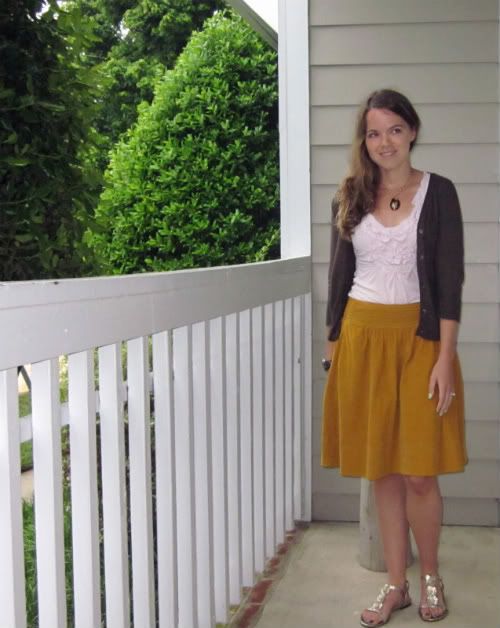 Field Skirt, Creative Outlet Tank, Zodiac Heirloom Necklace (Anthropologie)
Target cardigan
Shoes: See below, but
click
This was the beginning of a week+ of terrible, depressing, makes-me-curse-the-day-I-became-a-competitive-swimmer weather. It was rainy, cold, and just when I thought the day couldn't get worse, I had to get in the pool. Luckily, the weather is better now, but on this day I broke out this corduroy skirt for a bit of warmth.
Finally, okay, you guys are going to laugh, but the shoes I am wearing are
kids shoes
. You know I've been searching for summer shoes, and I found some awesome ones a couple of weeks ago. However, I still hadn't found any cute flats, and these were exactly what I was looking for and feels-like-leather comfortable for a mere twenty bucks! This will not be of much help to you unless you have quite small feet, seeing as how they are kids' shoes, but I highly recommend trying these. You can't tell they're for kids, and I got compliments all day. I'm going to look into other shoes by this brand. If you're interested, IMO they run quite big. I got a size 4 in these, and I usually wear a 5.5 or I barely fit a 6. I was wearing between a 3.5 and a 4.5 in this brand, so I'd definitely size down one size and try them on if possible. (This also means that if you're a 6.5 or 7, the 5s might work.)
Am I crazy for buying kids' shoes? Have you ever done this? (I will go ahead and admit that these are not the only kids' shoes I have. Hey, they're cheaper and often just as cute/comfortable!) I'm just going to ignore the picture of the small child on the box, I think.