Um, okay, so, hi! I'm back! And I fail!
I'm very sorry for not updating like I said I would: The short version is, I forgot my camera memory card, then
broke
said camera (I think it's temporarily okay, but I definitely need to look into fixing it while I still have a warranty), and had generally an emotionally taxing weekend. But the good news is that I'm back now! I don't have pictures of Ria's graduation because, again, camera, but I'll see if I can get some pictures taken by others up here soon. In the meantime, have another outfit: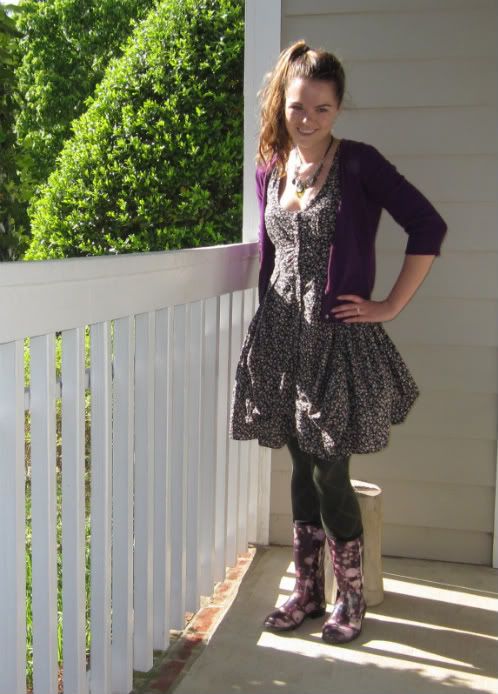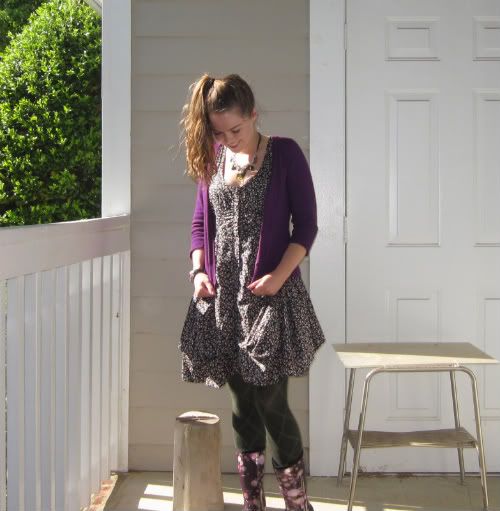 Gathered Alyssum Dress (Anthropologie)
Cardigan: Target
Tights: Macy's
Necklace: Kohl's
Boots: Kamik rain boots
This outfit was an exercise in the weather lying to me, as I wore my rain boots and tights only to find nothing but warmth and sunshine all day! I was still proud of myself for finally wearing this dress differently: as you can see, I've lost the jumper look here. That's still my favorite way of wearing it since, as you can see, with a cardigan it's a bit on the revealing side, but it's nice to have options. I was unintentionally rocking crazy 80s hair in these pictures after my ponytail went floppy.
I hope you guys enjoyed your weekend more than I did and that you break fewer things than I did! I'll be back soon with some more outfits and cool stuff!