My oh my, it's been awhile since I've done a normal OOTD post, hasn't it?
I'm having the laziest (and most awesome) day ever today sitting at home being cuddled by cats and watching a marathon of Sister Wives (don't judge me). In a little while, I'm going to attempt to drag my butt out of bed for a run and then to the mall to check out Anthro. My Christmas gift card is burning a hole in my pocket, people!
But today, I'm not going to post about Anthro. Today is a ModCloth post. I got an email about two weeks ago informing me that ModCloth was having a temporary sale on some of their most awesome vintage-y (read: Katie's favorite) items, so of course I went to their site to check it out and procrastinate. (You didn't hear that last thing.) Then I noticed that the
Burnt Sienna Sweetheart Dress
that I'd had my eye on a few months ago was among the sale offerings.
Then
I noticed that ModCloth was offering free shipping with no minimum. Can you guess what happened next? Hello, new dress, get in my shopping cart.
For a mere $30 on sale, this is a great dress. It's back to full price now, but honestly I think it's worth it now that I own it. The fabric is rayon and a bit wrinkly, but it's very comfortable, and for the price the quality is awesome. I love the color and the design. IMO it's more flattering once you put it on than it is in the picture online. I ordered a small, which is TTS to a little big. The dress is on the short side, though, so if you're taller than me I would not size down for the length. I didn't find it too short (I'm wearing ~3 inch heels in these photos), but if I were even a couple inches taller, I think it might be. My only quibble is that the top is a little loose on me, and when I bend over, it tends to become immodest no matter how tightly I tie it. You may want to be mindful of this, especially if you're petite.
Overall I highly recommend this dress and have already worn it three times. Here's a recent OOTD! Note the Christmas lights -- yeah, you'll be seeing those a lot in my old photos. I regret nothing.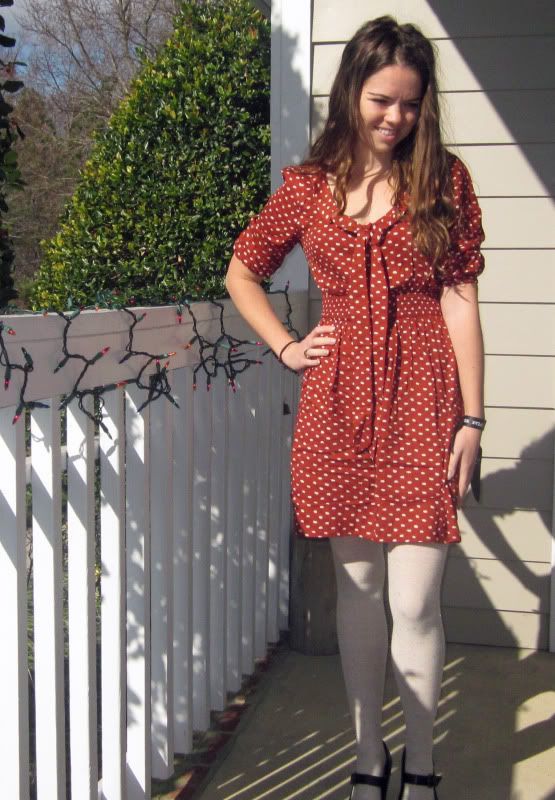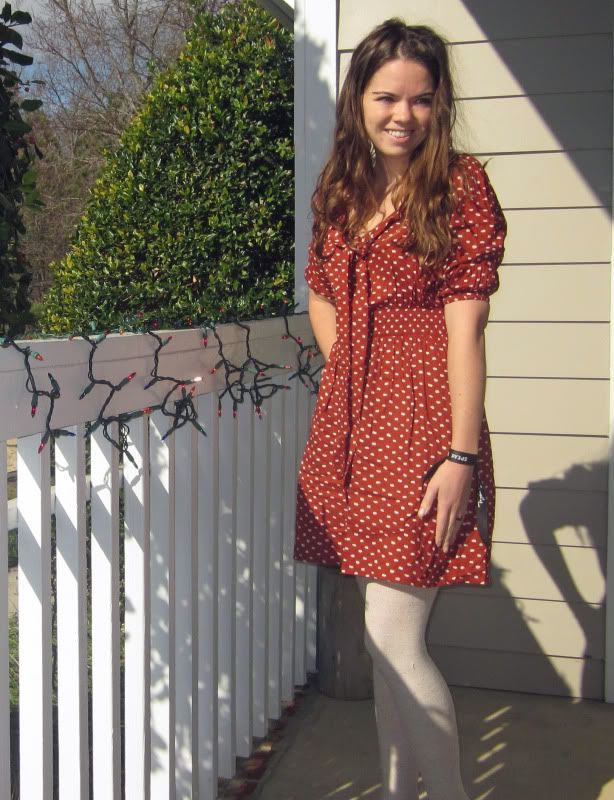 Dress: ModCloth (
Clicky!
)
Tights: Macy's
Shoes: b.o.c.
Bracelet: Taylor Swift concert (get used to this accessory, haha)