Hello! I'm here to post a couple of Anthro reviews in honor of last week's sale. After a lot of searching, it seems I'm just not meant to have the Dulcie Dress, sob.
If any of you happen to see one in an XS, if you could put it on hold for Katie and email me at Azelma (dot) Roark (at) Gmail (dot) com, I would be ever so grateful.
I love the black the most but would take either color. A few awesome ladies gave me some tips, but unfortunately I didn't end up finding one. There seem to be a bunch of other sizes left, but XS is really hard to find for whatever reason, and I really need that size. Cry. If you see one, let me know!
With that said, I'm attempting to drown my sorrows in reviews to hopefully find another dress to love. My Christmas giftcard needs a-spendin', so read on to give your opinion on how I should spend it!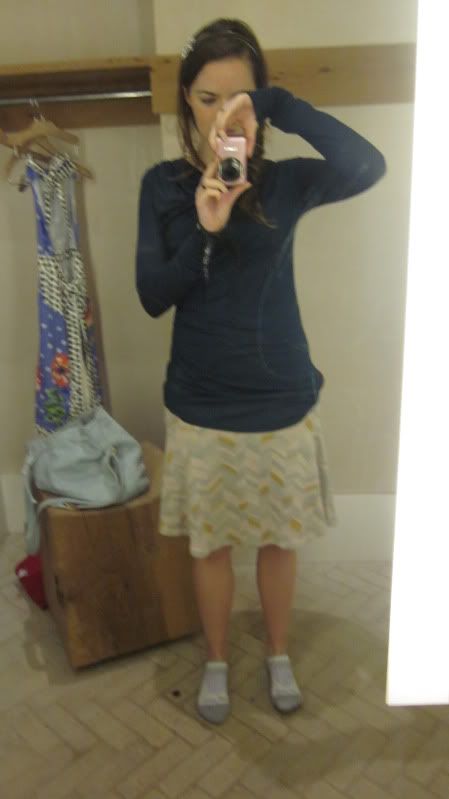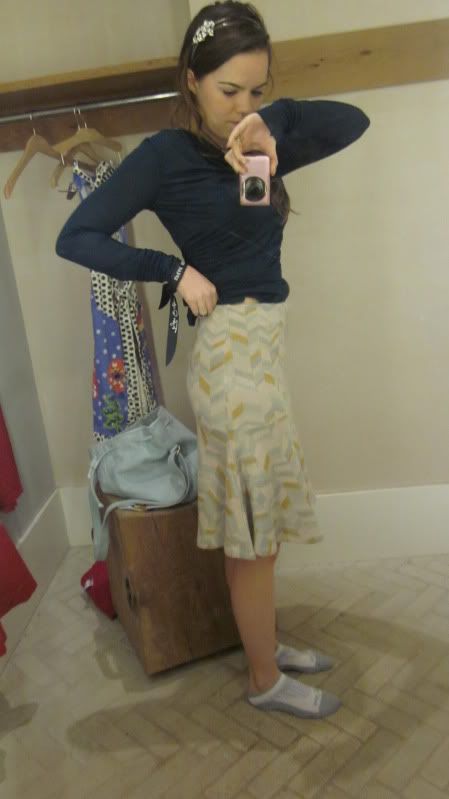 Wrapped Ruched Tee, $58
and unknown Moth skirt, $50
Okay, so I just picked up this tee to try on with the skirt (I'm pretty sure this is the name of it, though mine was a teal color that isn't listed on the website -- please advise if you know the real name!). It was a pretty big fail, as you can see. The fit was okay in the arms, but everywhere else was way too big, especially the length. This is a soft, comfy top that might look great on taller ladies, but IMO it is not for petites. Big pass.
I picked up the skirt because I'd been looking for more work-appropriate skirts in different color schemes. My store only had smalls and up, and as you can see, it was too big. I did like the shape, and it's soft and comfortable. But although I can see this skirt going well with a lot of different colors, the color itself wasn't too flattering on me. Overall, I liked this skirt, but not enough to try and track down an XS. At $50, it's too expensive for what it is. Maybe at another price cut. (What is the name of this one? Anybody?)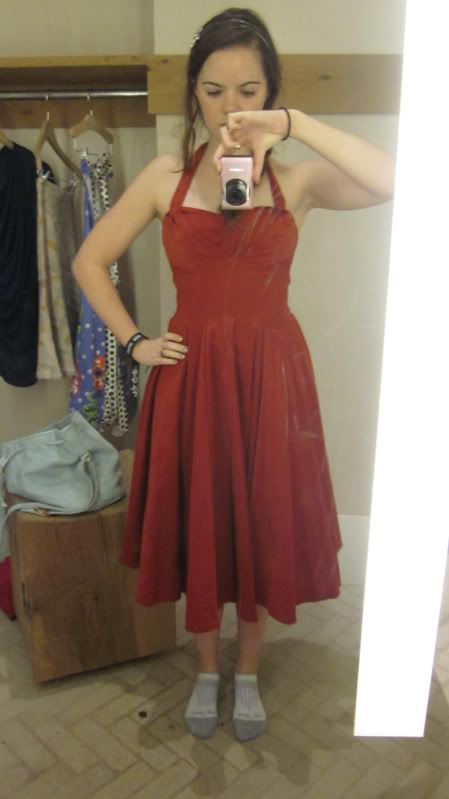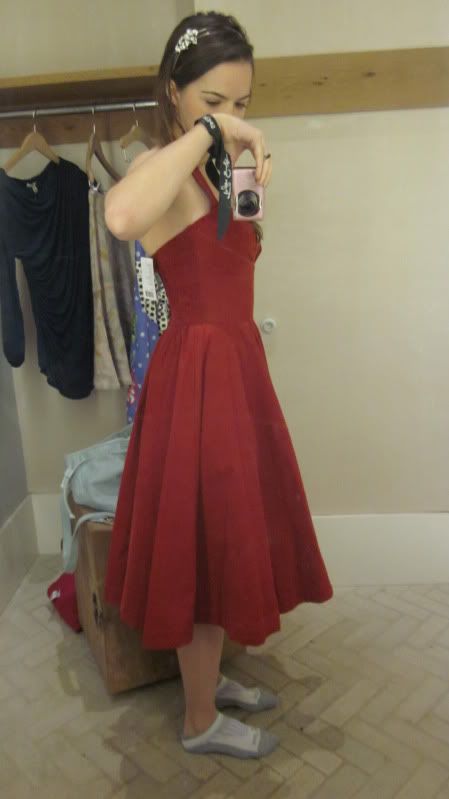 Rodna Halter Dress, now $99
Okay, readers, this is where I'm really going to need your help. I tried this dress on fully expecting it to overwhelm my small frame, but now that I'm looking at the pictures, I ... kind of want it. This is a size 2 because my store didn't have a 0, and as you can see it's a little big, especially at the chest. I would need to track down a 0 if I wanted it, and I don't imagine this dress will hang around long in my size, so I need to decide soon. It's a really heavy corduroy (I was worried it was going to break the hanger!) and hits at about my shin, which isn't a length I normally go for, but I didn't mind it IRL. What do you guys think? Is it too fancy for regular wear? Does it work on me, or is it too overwhelming? I'm on the fence and need to make a decision ASAP!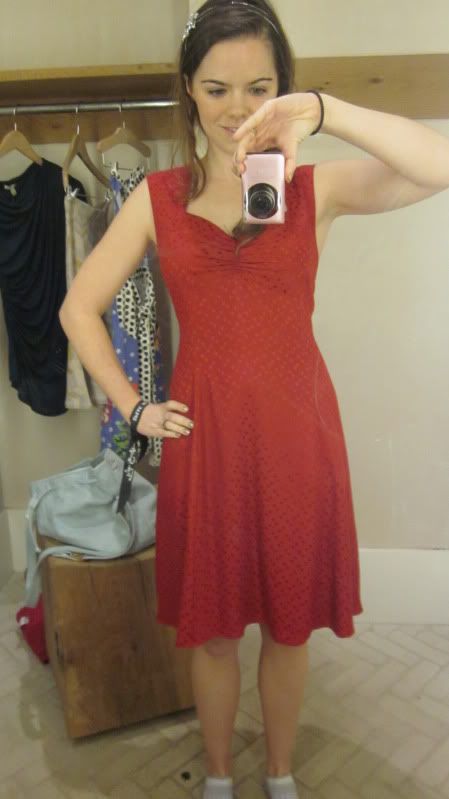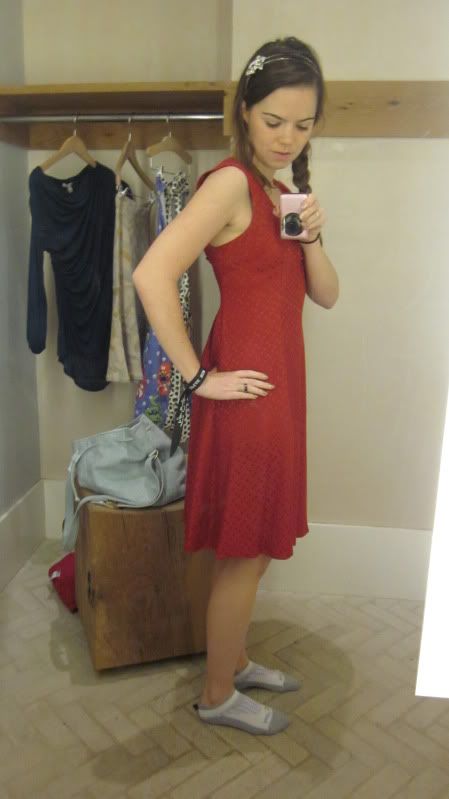 Raspberry Jacquard Dress, $168
I liked this dress more in person than I'm liking it in the photos. This is a size 2 and too big, and I imagine it'd look better in a 0. I loved the color, the swingy skirt, and the adorable dot pattern. The neckline might be more flattering in the right size. I'm not sold on this just yet, but it would be a really cute Valentine's Day dress. Also, um, the back is really, really hard to fasten. Like, really. I almost had to break down and call the SA for help. I'm not sure how this would work for me when I don't have someone around to help me (hey, boyfriend? ;)). The price is way too high for me right now, but I'll evaluate it again on sale.
After a somewhat disappointing trip to Anthro where everything was too big, I did end up taking home this cutie: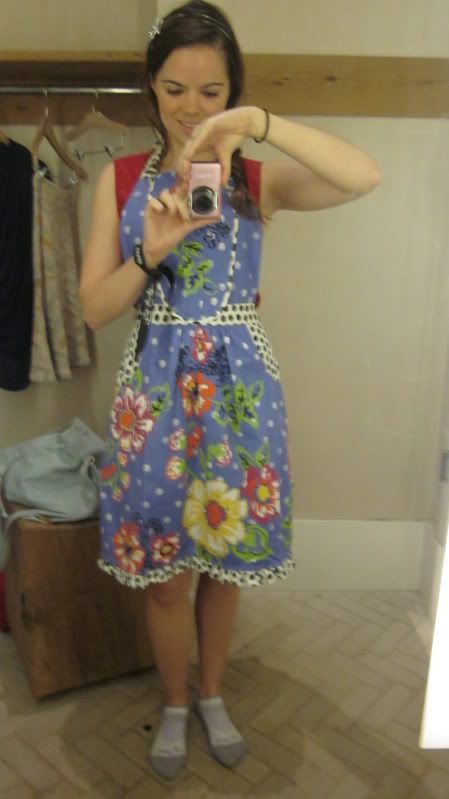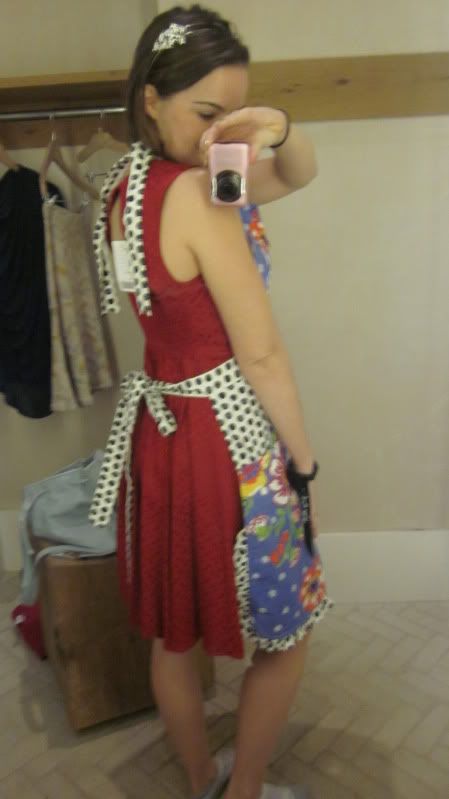 Centerpiece Apron
So adorable! I've been really getting into cooking lately, and I do a fair amount of entertaining in which I don't want to ruin my nice clothes. So I really needed an apron, and this was my favorite of the ones I saw at Anthro. I promised myself that I could get an apron as a reward for keeping my kitchen clean and cooking more, and with my gift card, this was an easy choice.
What do you guys think? What's the verdict on the Rodna? Got any other cute Anthro dresses to suggest for my giftcard extravaganza? Anybody know where all the XS Dulcies are hiding? ;)