Hi again!
When I saw the Tempting Trellis Cardigan in 2009, it was love at first sight. When I saw
Maria
make the connection to Romanticism on her blog, I knew it had to be mine. This was one of those "pains me to admit that I paid full price" purchases because I try really, really hard to never pay full price even if I can afford it -- and $100 for a cardigan is out of my personal realm of reasonable. But I had a little extra money at the time, and I wanted it so badly, so I had Anthro track down one of the last XSs available. It did eventually go on sale, and if luck was on my side I might have been able to find my size, but I loved it too much to risk it.
So, there you have it. Sometimes even thrifty Katie breaks down and pays full price for something. In this case, it was worth it, as I still absolutely love this cardigan. It's one of the softest tops I own, and I love how the rainbow of flowers makes it work with almost any colors. It never occurred to me to wear it on its own, but as a casual weekend look, I think it worked.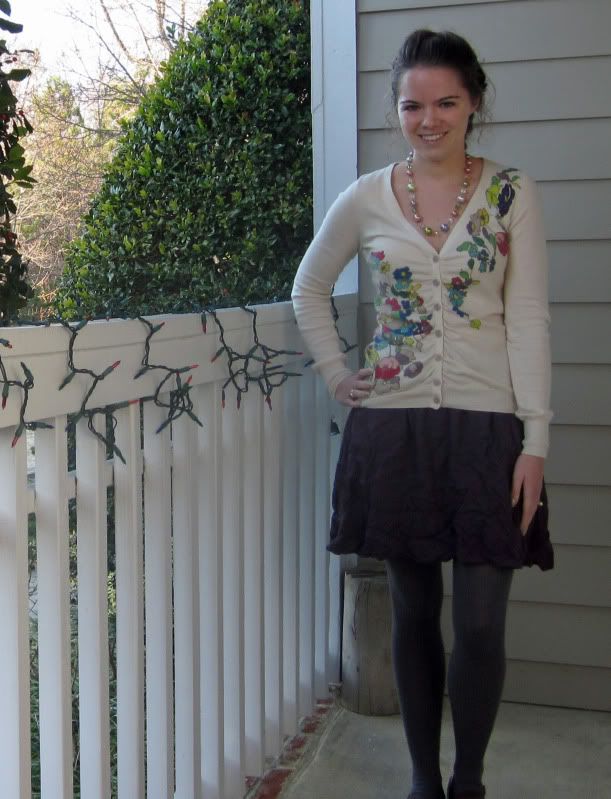 Anthropologie Tempting Trellis Cardigan
Urban Outfitters skirt
Macy's tights
Necklace from my work hospital
You can't see them, but the shoes are Softwalk mary janes