So, as most of you probably know, the last Harry Potter movie came out this weekend. To be honest, I wasn't really feeling the excitement this time around; for me, the series has been over for a couple of years, as the last book came out in 2007, and due to my personal life circumstances I just haven't had the mental energy to get into it. But after an extremely exhausting-in-every-way 13-hour day at our swimming Championships, inhaling a cheeseburger, and losing about 15 hours of my life to the insides of my eyelids, I felt ready to make a trip to see our friend Mr. Potter this morning. I've always seen a lot of myself in Hermione. When I watched the second movie with my high school class, everyone looked at me at the part referenced by my post title. I've changed a little since then, but I still have a soft spot for poofy haired nerds even though my hair was feeling the straight today. That said, here is my attempt to be festive: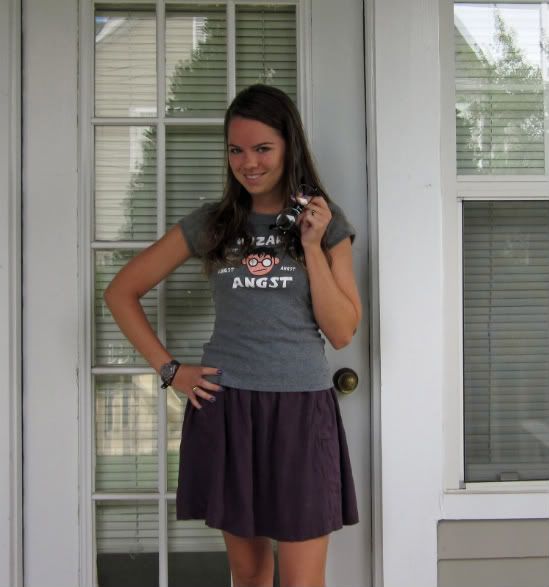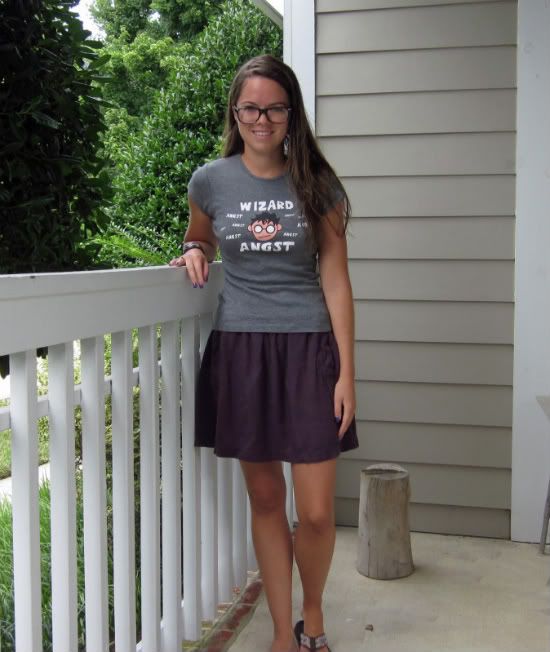 Skirt and fake!glasses: Urban Outfitters
Shirt: the always-hilarious
Potter Puppet Pals
(birthday gift from a great friend)
I did enjoy the movie, but I think it'll take a few viewings to rank it up there with my favorites. On the positive side, my shirt was a great conversation starter all day!